Kid CEO
The Somerset Patriots and Spearhead Staffing have hired Skyler Pearsall of Metuchen as this year's Kid CEO.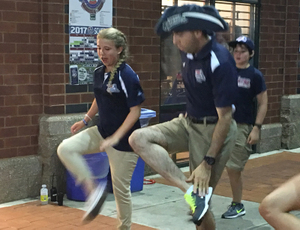 Day 1: Ticket Office
For my first experience as the Kid CEO, I worked in the Ticket Office. When I first arrived I was introduced to all the employees and interns that work in the ticket office.
The first thing that I did was stand outside and scan the tickets from the sponsors, who could come in early. Then when the gates opened, I was working in the Will Call window. The Will Call window is where all of the players' families, the people who ordered their tickets online or over the phone, and those who came with a group pick up their tickets. It was easy and fun at the same time. When people came up to the window, they told me their names, and then I gave them their tickets.
Once the lines died down, we had some down time and I was allowed to get dinner, and I got to eat it in the press box.
After they sang "Take Me Out to the Ballgame" I got to dance the Cotton-Eyed Joe with Nick and it's was so much fun!
Then after the game, I got to hand out schedules and All-Star game flyers to the fans leaving the ballpark.
Then lastly, I stayed for the post-game meeting, where they recapped everything that happened that night. My time in the ticket office was awesome!
---
Day 2: Merchandise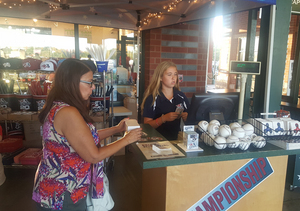 For my second job as Kid CEO, I got to work in merchandising. It was so fun. The first job that I did was selling schedules and score cards at the third-base entrance, which I did all by myself. This was an amazing experience because I got to interact with a lot of fans. If I remember correctly, I sold 21 scorecards and six programs. In the middle of the first inning, I closed out my stand and started working with the rest of the merchandising staff. I worked at the outside register.
It was so funny to see people's reactions when they realized some of the stuff that we have in the store like, fidgit spinners. " OMG mom, they have fidget spinners, can I please get one??" And almost every parent answered, "No honey you have too many already!!" It made me laugh every time.
I also learned how to work the register system which is actually fairly easy. Once I got the hang of it, I started ringing up more customers. There were times where it was really busy, but because I was at the outside register, I could also watch the game while I was standing there.
Overall it was an great experience and I can't wait for my next job as the Kid CEO!
---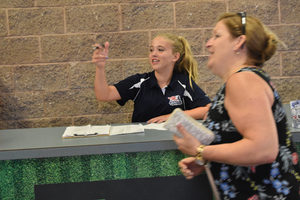 Day 3: Customer Service
For my third experience as Kid CEO, I was able to work at the Customer Service booth. It was super fun, but so much harder than it seems.
The first thing I did was bring a member of a dance team to meet up with the rest of her group, as they were going to be performing during the pregame show. When I got back, Kim and Zach taught me everything I needed to know, like where everything was and how to answer when people asked me questions.
After that it was pretty chaotic because they were trying to get everyone to where they should be, so this left me all alone at the booth. I answered a lot of questions and even figured out how to redeem a MyRewards reward! I had a lot of fun at Customer Service meeting and helping fans.
---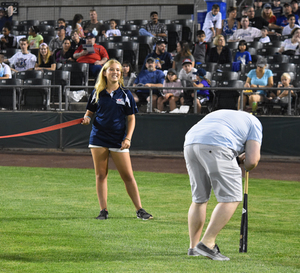 Day 4: Promotions
For my fourth experience, I became part of the on-field promotions team. Working on the field and helping with the games was really fun!
Before the game, I got to help organize groups and got to hangout in the dugout.
During the game I mostly held the finish line for the sack race, pony hop, dizzy bat and the Healthy Choice race. I also got to throw out frisbees and launch the t-shirts during t-shirt time!
Then in the 6th inning, the interns and I got to take a break and eat dinner in the Press Box.
The last thing I got to do was hold the bucket of victory balls for all the coaches and players. I loved helping out with everything and feel so lucky to have been able to have this experience!
---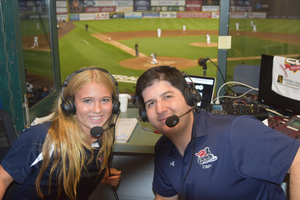 Day 5: Media Relations/ Public Relations
My last experience as Kid CEO was to work in Media Relations. I started off the night by helping to take pictures for the social media pages. I made sure we took pictures of all the promotions and sponsors. Next, I went onto the field and took pictures there too. Once the game began, I helped with some scoring. I operated the scoreboard controls and entered some scoring information into the computer. It was interesting to see how it all worked. Later, I went on the radio for half an inning with Marc Schwartz. I had used some of my My Rewards points to do this a few months ago so this was actually my second time on the radio this season. During the rest of the night I got to see how all of the pictures we took for the social media pages were edited and put together. At the end of the game I got to ask the Player of the Game, Jerome Williams, a question at his end-of-game interview. Overall, media was really fun and I loved it!!
I really enjoyed all the different assignments that were a part of being Kid CEO. The entire staff of the Patriots were so welcoming and really made me feel like I was part of the front office team. I would like to say thank you to everyone. I will never forget this season.
---
Pearsall is 13-year old 7th grader at Edgar Middle School. She was a member of the field hockey, basketball and softball teams. Outside of school, Skyler is a girl scout, an altar server and Buddy Ball volunteer. Skyler is a dedicated Somerset Patriots fan, attending as many games as possible, both home and away.
She joined fellow finalists Evan Gilmurray (Bridgewater), Charlie Grippo (Bernardsville), Jimmy Marvits (Hillsborough), and Nicholas Morgan (Piscataway) on the field before the game on Friday, May 26th for their final interview to determine the winner of the program.
"I think this was the best year of finalists we've had. You can tell they were all intelligent and very well spoken. All five came well prepared to answer their questions. Any one of the children would have been an excellent pick," said Doug Bryson, the President of Spearhead Staffing.
As the Kid CEO, Pearsall will shadow front office staff members during the games to learn about ticketing, merchandising, promotions, media, marketing, and ballpark operations. She will sit in on Patriots staff meetings and write about the experiences she has in the position. Pearsall will also receive a personalized Somerset Patriots jersey, tickets to five games, a ceremonial first pitch for a game, and a meet and greet with Sparky Lyle, Brett Jodie and the players. This is the seventh time that the team selected a Kid CEO.
"We are very proud to welcome Skyler as our Kid CEO. All the finalists were terrific and would have done a great job in the position," said Somerset Patriots President/General Manager Patrick McVerry. "Ultimately we just felt that Skyler was the right pick and definitely earned the shot of being hired this year. We can't wait to work with her and make it a great experience."
Tickets to the 2017 Somerset Patriots Season presented by Ford, which includes the team's 20th Anniversary, are on sale now. TD Bank Ballpark will be the host of the 2017 Atlantic League All-Star Game presented by RWJBarnabas Health and Horizon Blue Cross Blue Shield of New Jersey on Wednesday, July 12th. For more information, stop by the ballpark, call (908) 252-0700, or visit www.somersetpatriots.com.
About Spearhead Staffing
Spearhead Staffing is an award winning IT staffing company privately held and headquartered in the New York metropolitan area. Spearhead Staffing specializes in the Life Sciences industries such as Pharmaceutical, Medical Device and Biotechnology. Spearhead Staffing aggressively sources talented professionals that combine years of valuable industry experience and domain knowledge with certified vendor training. Utilizing their proven RightHire Recruiting Process, Spearhead Staffing reduces the risk associated with hiring and identify the best person for each company's culture and skill needs.
Congratulations To Our Great Runners Up For The Position!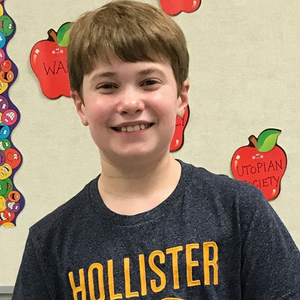 Evan Gilmurray
Evan is a 12-year old 6th grader at Eisenhower Intermediate School in Bridgewater. He enjoys being a member of the chess club, serving as the student council treasurer, and being a peer buddy to other students. Evan also loves being part of his baseball team and participating in Pokemon tournaments. He wants to be the Somerset Patriots Kid CEO to see how everything works behind the scenes.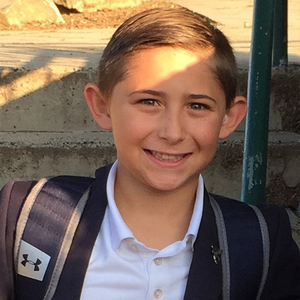 Charlie Grippo
Charlie is an 11 year old from Bernardsville and very excited for the chance to become a Kid CEO for the Somerset Patriots. He has many interests, but his favorite hobbies are playing baseball, golf, drums and snowboarding whenever he can. Charlie also enjoys writing and working in the musical theater. Charlie is a Cincinnati Reds fan because that is his hometown team and first baseball experience. His dream is to someday attend Delbarton High School, Notre Dame University, and become a journalist for ESPN.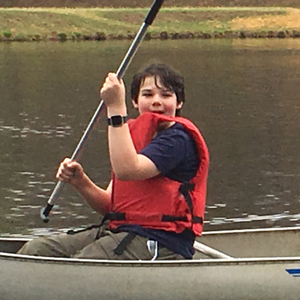 Jimmy Marvits
Jimmy is a 12-year old 6th grade at Auten Road Intermediate School. He is a percussionist in the 6th grade band, a First Class Boy Scout in Troop 489, a Quartermaster of BSA troop and is working for Eagle Scout. Jimmy is a big Somerset Patriots fan that has been coming to games for five years. He also enjoys camping and is a big fan of the New York Mets. Jimmy believes he would be a good Kid CEO because he is a very hard worker that understands commitment and how to bring some fun ideas to the organization.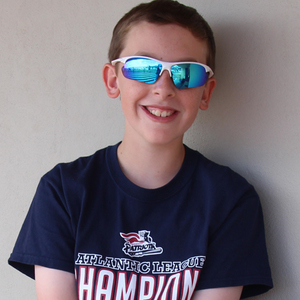 Nicholas Morgan
Nicholas is a 13-year old Honors student from Piscataway whose favorite subjects are math and science. He was accepted into the National Junior Honor Society and is in Accelerated Math, English, and Spanish at school. Nicholas is a huge baseball fan and his favorite Somerset Patriots player is his hometown hero Corey Smith. He plays baseball, runs cross-country track, and plays basketball. In addition to playing sports, Nicholas enjoys acting and collecting baseball cards, which he has over 2,000. He is thrilled to be a Somerset Patriots Kid CEO finalist and looks to work hard on and off the field like he does in all of his other activities. Nicholas would like to thank his mom, dad, sister and grandmother for all of their support and love!