Roster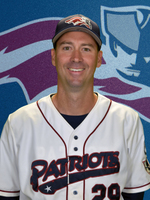 Active
Brett Jodie
#29
Position:
Manager
Date of Birth:
03/27/1977
Height:
6' 4"
Weight:
180 lbs
Bats:
R
Throws:
R
Resides:
Lexington, SC
Biography:
Jodie became the manager of the Somerset Patriots in 2013 and has since led the team to the playoffs each of his years at the helm. His team had the best record in 2016 at 77-63 and won the Liberty Division Second Half Championship.
Jodie was named the Atlantic League Manager of the Year after leading the Somerset Patriots to the Atlantic League Championship in 2015. The team finished with a league best 89-50 regular season that was one win shy of tying a franchise record.
The 2015 championship was Jodie's first at the helm of the Somerset Patriots, having already won once as a player (2003) and twice as a coach (2008, 2009) with the team.
In addition, Jodie became the fastest manager in league history to win his 250th career game when the team defeated the Sugar Land Skeeters 4-2 on August 26, 2015.
Jodie has Major League experience with the New York Yankees and San Diego Padres. He also had three seasons of Triple-A experience with the two organizations.
Jodie had a minor league career 59-33 record with a 3.43 ERA and 532 strikeouts in 748 innings pitched in 136 games.
Jodie joined the Somerset Patriots in 2003 and helped lead the team to its second championship in three years. He finished the 2003 season with a 12-5 record, a 3.78 ERA, and 88 strikeouts in 135 innings pitched in 24 games started.
This is Jodie's fifth season as the Manager of the Somerset Patriots, following seven seasons as the team's pitching coach. He led the team to a season record 90 wins in 2013.