Roster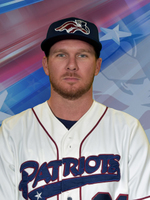 Active
Ryan Kelly
#34
Position:
P
Date of Birth:
10/30/1987
Height:
6' 2"
Weight:
190 lbs
Bats:
R
Throws:
R
Resides:
Bluffton, SC
Biography:
Kelly enters his second season with the Somerset Patriots and second in the Atlantic League. The former Atlanta Braves reliever yielded just two runs over nine innings with three saves in his 10 relief appearances with the Patriots last year. His contract was purchased by the Seattle Mariners in mid-May, where he split time between Double-A Arkansas and Triple-A Tacoma for the rest of 2017. There, Kelly combined to post a 2.97 ERA with six saves and 32 strikeouts over 30.1 innings of relief.
The Bluffton, South Carolina resident appeared in 17 games in the big leagues with the Braves in 2015, striking out 10 batters over 16.2 innings of work. Kelly earned his 2015 promotion after he posted a 3-1 record with a 0.95 ERA and 13 saves in 24 appearances with Triple-A Gwinnett earlier that season. Additionally, Kelly began the 2015 campaign with Double-A Mississippi where he recorded nine saves and tossed 17.2 innings without allowing an earned run (0.00 ERA).
Kelly began his professional career in the Pittsburgh Pirates organization. Kelly spent his first four seasons with the Pirates before he was traded three times during his fifth season, eventually landing with the San Diego Padres. There, he earned a promotion to Triple-A Tucson in both 2012 and 2013 after he posted a 4-1 record with a 2.66 ERA over 39 relief appearances with Double-A San Antonio in 2012.
The Walters State Community College alum owns a 24-23 record with a 3.80 ERA and 64 saves over 319 appearances (17 starts) over 10 seasons of service in minor league baseball.