Roster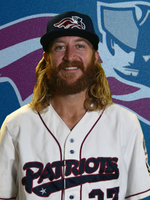 Active
Mark Hamburger
#27
Position:
P
Date of Birth:
02/05/1987
Height:
6' 4"
Weight:
200 lbs
Bats:
R
Throws:
R
Resides:
Shoreview, MN
Biography:
Hamburger enters his first season with the Somerset Patriots and the Atlantic League of Professional Baseball.
Hamburger has Major League service with the Texas Rangers, where he appeared in five games during the 2011 season. He was 1-0 with a 4.50 ERA and six strikeouts that season for Texas.
In addition to his time with the Rangers, Hamburger has experience in the Minnesota Twins, San Diego Padres, and Houston Astros organizations, including four seasons of Triple-A service.
Hamburger was 13-6 with a 4.13 ERA and 115 strikeouts in 172 innings pitched for St. Paul earlier this season. He was 12-6 with a 3.86 ERA and 100 strikeouts in 158.2 innings pitched in 2016.
He has a minor league career 3.88 ERA and 426 strikeouts over 486.2 innings pitched in 282 games.