Roster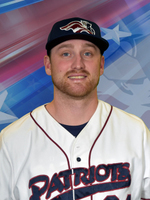 Active
Randy McCurry
#24
Position:
P
Date of Birth:
01/07/1990
Height:
6' 1"
Weight:
200 lbs
Bats:
R
Throws:
R
Resides:
Tupelo, OK
Biography:
McCurry enters his first season with the Somerset Patriots and first in the Atlantic League. The Oklahoma State University alumnus has pitched the last two years as the primary closer for the Evansville Otters in the Frontier League. Two years ago, McCurry led the league in saves (23) with a 3-3 record, 2.11 ERA and 41 strikeouts over 34 innings pitched. He was named to the All-Star game that year and was listed as the lone relief pitcher selected as a Post-Season All-Star.
The Ada, Oklahoma native continued his strong play in the 2016 playoffs, recording three saves including a championship-clinching save for the Otters in game five of the Frontier League Championship Series.
McCurry followed up his impressive 2016 campaign with an equally strong 2017 in Evansville. The 6'1" righty went 4-1 with a 2.73 ERA and 17 saves over 26 appearances. He finished his two-year tenure in the Frontier League with a 7-4 record, 2.39 ERA and 40 saves over 61 relief appearances.
McCurry was a two-way player in college at Oklahoma State, including single-season school record of 10 saves in his freshman season. He was later drafted as an infielder by the Arizona Diamondbacks in 2013 and spent one season with Low-A Hillsboro. He split time between second base and third base over 55 games with Hillsboro in 2013 before resuming his career as a pitcher in 2016.