News
01/03/2019 7:05 AM
-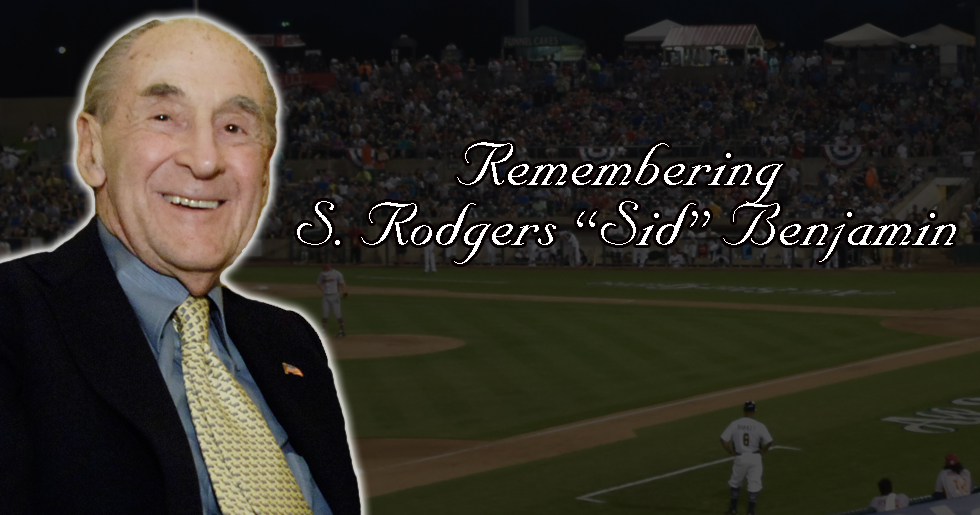 Bridgewater, NJ – The Kalafer family and the Somerset Patriots mourn the passing of long-time National Advisory Board member and friend S. Rodgers "Sid" Benjamin.
Benjamin was an instrumental part of the Somerset Patriots coming to Somerset County and served on the team's National Advisory Board since the team began in 1998. He was the longest serving National Advisory Board member.
Benjamin was the chairman of Flemington Fur Company, bringing a showroom to Flemington in the 1950's that helped put the town on the map. He was also the founder and chairman of the Town & Country Bank in Flemington, and subsequently, a director of Somerset Trust Company, Summit Bancorporation and Summit Bancorp.
His love of sports and desire to give children something to do led him to organize youth baseball in Flemington in 1953. Today, Flemington-Raritan Baseball has hundreds of players and families involved in the organization.
"We lost a tremendous man who cared greatly for his family, friends, and the community at large," said Somerset Patriots Chairman Emeritus Steve Kalafer. "Sid Benjamin was a mentor, a friend, and someone my family and I deeply cared for since the day we met. He helped me in business and in life in more ways than I can mention and I will always be grateful for every minute we had him in our lives. The Kalafer family and the Somerset Patriots will honor his memory at the ballpark this season and in the future. We loved him very much and he will be greatly missed."