News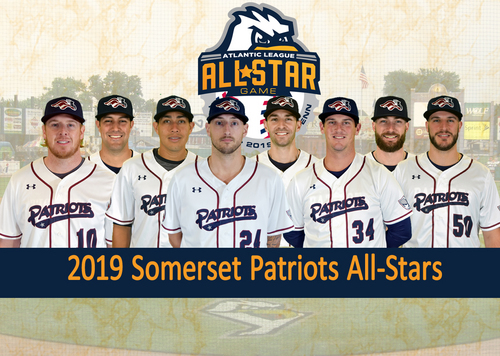 07/05/2019 10:13 AM
-
Bridgewater, NJ – The Somerset Patriots have announced that eight players have been selected as All-Stars to represent the Liberty Division in the 2019 Atlantic League All-Star Game. The mid-summer classic will be hosted at PeoplesBank Park, the home of the York Revolution on Wednesday, July 10th.
Pitchers David Kubiak, Mike Antonini, and James Pugliese will join position players Michael Ohlman, Will Kengor, Ramon Flores, Alfredo Rodriguez and Justin Pacchioli as Somerset's representatives in the game.
Kubiak has been the league's top pitcher throughout the first half, leading in just about every pitching category. He tops the Atlantic League in ERA (1.76), wins (7), strikeouts (82), opponents average against (.173), WHIP (0.90), and winning percentage (.880). Kubiak is second in innings pitched with 82.0.
Antonini has been the league's premier closer, leading all relievers with 25 saves. He's among the league leaders with 29 games and carries a 2.17 ERA and 29 strikeouts over 29 innings pitched.
Pugliese is 3-0 with a 3.94 ERA and 29 strikeouts over 29.2 innings of relief in 22 games pitched.
Kengor is among the league leaders with his .342 batting average (2nd), .394 on base percentage (5th), .523 slugging percentage (4th), .917 OPS (3rd), and 81 hits (3rd).
Flores is third in the league in on base percentage with a .404. He has also dominated other league top offensive positions for his .314 batting average (5th), .460 slugging percentage (17th), .864 OPS (9th), and 75 hits (5th).
Ohlman is hitting .291 with 52 hits, 14 doubles, three home runs and 28 RBI in 52 games played this season.
Rodriguez, the defending All-Star Game MVP, makes his second straight appearance in the Atlantic League All-Star Game. He has a .264 batting average with 28 runs, 64 hits, 10 doubles and 18 RBI.
Pacchioli makes his second Atlantic League All-Star appearance in his three seasons in Somerset, having been named in 2017. He is hitting .270 with 21 runs scored, 34 hits, 11 RBI, and 11 stolen bases. His extraordinary defense in the outfield also made him standout among his peers.
Voting took place over the past few weeks by online balloting of fans, Atlantic League and team executives, as well as on-field personnel.
Featuring players from each of the eight ALPB teams, the Atlantic League All-Star game returns to York for the first time since 2011.
The day of the All-Star Game will start with a wide variety of family-friendly activities in the Judgement Free Fun Zone presented by Planet Fitness on the Brooks Robinson Plaza, followed by the pre-game home run derby. Legendary Baltimore Orioles Brooks Robinson and Andy Etchebarren (a former Revolution manager) will serve as honorary co-captains, all-time Revolution great Corey Thurman will help Revolution radio broadcaster Darrell Henry "call" the home run derby from the field, and the fan-favorite ZOOperstars! will make their only appearance at PeoplesBank Park this year during the game. At the game's conclusion the Star-Blazing Spectacular presented by AAA Southern Pennsylvania – the largest fireworks display in ballpark history – will launch from center field.
The Somerset Patriots 2019 Season Presented by Ford is underway at TD Bank Ballpark. Stay up to date on all the team news online, on all of our social media platforms, and on our mobile app. For more information, visit www.somersetpatriots.com.
About the Atlantic League of Professional Baseball (ALPB)
With eight teams in the Mid-Atlantic and Texas, the ALPB is a leader in baseball innovation and a player gateway to Major League Baseball. Through its exclusive partnership with MLB, the Atlantic League tests Major League Baseball rules and equipment initiatives. The Atlantic League has sent over 900 players to MLB organizations while drawing more than 40 million fans to its affordable, family-friendly ballparks throughout its 22-year history.
For more information, please visit www.atlanticleague.com.