News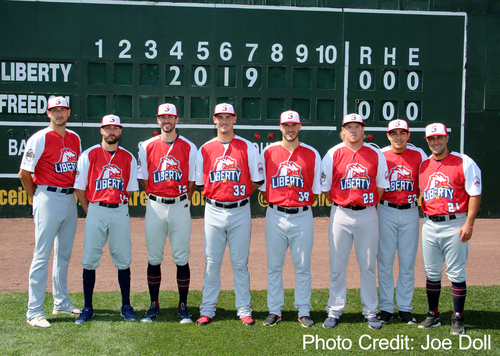 07/11/2019 2:07 PM
-
By Marco Meglio
York, Pennsylvania- The 2019 All-Star Game featured a plethora of talent from across the Atlantic League, including eight players from the Somerset Patriots.
On a perfect night for baseball in York, the stars shined brightest on the biggest stage for the Patriots. It began in the first inning when ace David Kubiak got the starting nod for the Liberty division and did not disappoint. The righty showed why he has been the best pitcher in the league for the first half, tossing a scoreless first inning and fanning two batters along the way.
Justin Pacchioli, Ramon Flores, Will Kengor, Mike Ohlman, and Alfredo Rodriguez all joined Kubiak in the starting lineup for the Liberty Division, including Pacchioli hitting first in the order.
The game received unprecedented national attention for the introduction of the automated balls and strikes system (ABS) to assist the umpire with their calls. The ABS will now be in place for the second half of the season through the Atlantic League's groundbreaking partnership with Major League Baseball.
The Patriots made their mark early, with Kengor knocking a double in the second inning to set up Ohlman with a big scoring opportunity. The Somerset catcher stepped in and proved he was more than ready for the big stage, clobbering a two-run home run over the left-field fence, which provided the first two runs of the game.
Kengor and Ohlman combined to go 4-for-6 on the night with two extra base hits and the only two runs for the Liberty Division. They combined for more than half of the team's hits, as their team finished with seven total.
Later in the night, closer Mike Antonini proved why he's the best backend pitcher in the Atlantic League, hurling a scoreless ninth inning to preserve the tie game and send it into extra innings.
As per Atlantic League All-Star Game rules, a home run off decided the winner of the contest, with York's Isaias Tejeda launching the game-winner for the Freedom Division's win.