News
06/23/2018 1:31 PM
-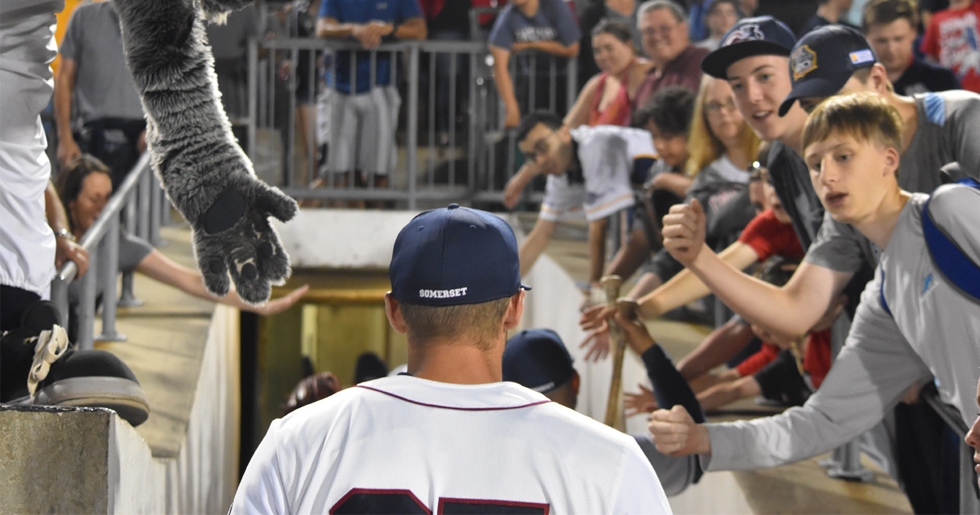 By Pat Boyle- Broadcast/Media Relations Asst
BRIDGEWATER, N.J. – 50 games into the 2018 Atlantic League season, and the Somerset Patriots are in contention for another First Half Liberty Division Title.
With just 13 games remaining in the first half, the Patriots hold a slim two-and-a-half game lead over the Long Island Ducks. It's been this way the entire first two months of the season, and Somerset does not seem to mind. Rather, it's a place of familiarity for them.
The Patriots have held a division lead in the first half for 52 consecutive days to start the season, but their lead over Long Island atop the standings has not been larger than four-and-a-half games at any time this season.
It can be said that one of the many reasons for this team's success is their ability to compete in pressure-packed situations and with playoff implications on the line. Sixth year manager and 2015 Atlantic League Manager of the Year Brett Jodie certainly seems to agree.
"We're in every game, even if we're behind late. We feel like we have a chance to win. Everybody on this team has a winning mentality, and none of these guys ever give up," said Jodie.
Over the span of 50 games (let alone an entire season), it can be difficult to pinpoint where a team has enjoyed competitive advantages over their opposition. So, to get a better understanding of exactly what kind of team the Somerset Patriots are—a team that may very well be playing for a seventh Atlantic League Title at the end of September—it's best to hone in on their strengths, as well as their one main weakness.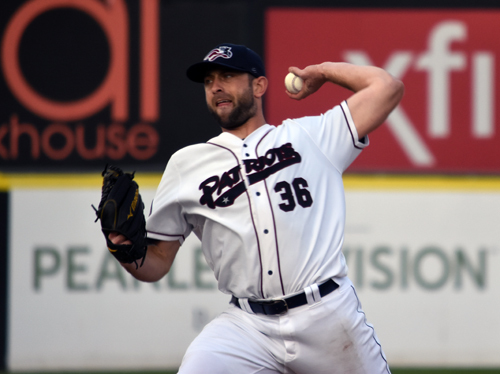 Ability to Compete
If you take a look at any of the box scores from this year, you will find a plethora of tight ballgames. The Patriots are not a juggernaut team that will blow out their opposition. They find peace of mind in the types of games that cause most people's heart rate and anxiety levels to go through the roof. In 50 games thus far for Somerset, 19 have been decided by one run. They have only lost five of them. When more than one-third of a team's games feel like the playoffs, you have to find a way to compete. This Patriots team has had no problem doing that.
Duane Below and the pitching staff in particular know how to compete. Ask any front office in professional baseball how to win a championship, and an overwhelming majority of them will say "great pitching." Luckily for Somerset, that is another one of their assets. But, they are not composed of a bunch of flame-throwing strikeout artists. Pitching coach Jon Hunton and his staff take pride in pounding the strike zone and attacking hitters, and they have been one of the best in the league at doing exactly that.
"We have a good staff, and we all want to go out and help each other and perform and try to help the team win as much as possible because that is the most important thing," Below said. "It's our job to compete. We have a good lineup, so even if we fall behind, we're still going to compete because we know that our offense is going to give us a chance to win."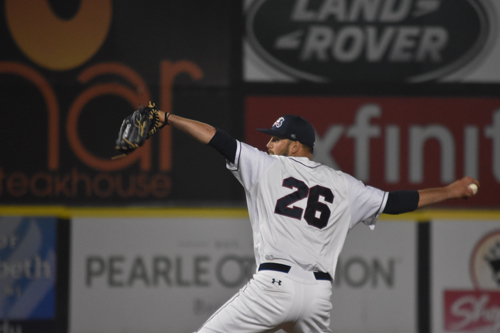 Excellent Pitching with Superior Command
Before last night's, Somerset starting pitchers were 8-2 with a collective 2.30 ERA over their last 18 games. None of them had gone less than five innings and given up more than three earned runs. Patriots starting pitching had logged 109.2 IP over this stretch, with 112 strikeouts compared to only 29 walks. These kinds of performances have become the norm for this pitching staff, so much to the point where guys like Vince Molesky can't even find a spot in the rotation.
Molesky had proved his worth as a long reliever in the beginning of the season, who was yearning for a shot at the starting rotation. When he earned his shot in the beginning of June, he did not disappoint. Six shutout innings with nine strikeouts and yielding just one hit brought Molesky's ERA to a then league-best 1.30. However, Molesky went right back to the bullpen to make way for the rest of this Patriots starting pitching staff, which has been healthy since. Four of the six starters have an ERA of 3.50 or lower. Therefore, not only is the starting rotation talented, but they are extremely deep.
The band of renegades that make up the Somerset bullpen are just as dangerous, and they have proven it for the majority of this first half. On June 8, this bullpen had an ERA of just 3.03, which ranked at the top of the Atlantic League. Some recent rough outings from Patriots relievers have slightly distorted that stat, but manager Brett Jodie has kept his faith in his bullpen, and they rarely relinquish any lead they are trusted with.
When leading after six innings, the Patriots are 21-3. When leading after seven innings, 18-2. When leading after eight innings, 20-0. If you factor in the multitude of close ballgames that this team has played in, these numbers are even more impressive. This bullpen is composed of former major league arms and gutsy bulldogs who have nearly made it to baseball's highest level, and they all have performed well in their respective roles. Guys like Mike Antonini (1.68 ERA), Logan Kensing (2.66 ERA) and Ryan Kelly (nine saves in 10 chances) make up the feared back end of this bullpen.
What is most impressive about this entire pitching staff is their laser-like focus on throwing strikes and limiting walks, something that Hunton has preached since day one.
"These guys all realize the importance of throwing strikes. That has been a talking point since the first day of spring training," Hunton said. "When you get ahead of hitters, it makes it easier for all of them to work in their secondary stuff and be that much more dangerous."
Hunton, who is also the team's Director of Baseball Operations, runs a tight ship, and everybody has been on board from the onset. The Patriots lead the league in allowing the least amount of walks, yielding only 133 free passes through the first 50 games. This includes starting pitchers Duane Below and Cory Riordan, who both rank in the top five in the Atlantic League in BB/9 IP (they both allow less than one-and-a-half walks per every nine innings). David Kubiak, who has been the most impressive starting pitcher since joining the team in late May (3-0, 1.50 ERA), has only yielded six walks in 30 innings.
Overall, this is a pitching staff that ranks third in the league with a 3.62 ERA, and has been one of the main reasons for the Patriots success.
On the offensive side, they mirror a formula that isn't particularly sexy, but is consistent and has led to Somerset scoring the fourth most runs in the league.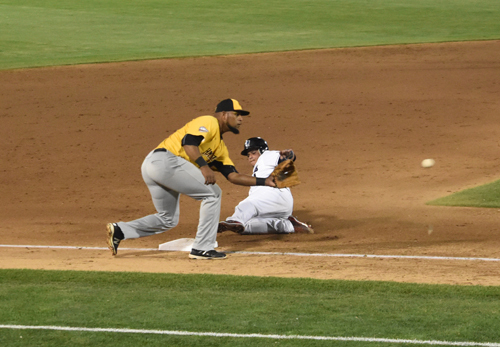 Small Ball and Manufacturing Runs
29 wins and a first place spot in the Liberty Division doesn't appear out of the air. And one certainly cannot credit the pitching staff for all of the success. There's a lot of pride in the locker room in how this offense has been able to generate run-scoring opportunities, and then cash in on those chances.
Somerset ranks second in the league in hitting (.267), OBP (.345), third in walks (177), and have struck out the second least amount of times in the league (342). There's four guys hitting .300 or better (all top 20 in the league), and there are seven hitters with 15 RBI or more (only Sugar Land has more hitters with at least 15 RBI). Those numbers do this offense a decent amount of justice.
However, there is a ton of offense, and a ton of hustle, that stats cannot measure. So much of the production and manufacturing that Somerset hitters contribute to will go unnoticed by the casual fan. All of the ground balls to move a runner over with no outs in an inning. All of the times a baserunner has turned a single into a double by busting it out of the box, or the times a runner has taken the next base on a ball in the dirt because of hustle. All of the sacrifice flies (Somerset is fourth in the league with 18) and sacrifice bunts (leads the league with 22, and leads the league in total sacrifice hits with 40).
There's something to be admired about the grittiness and persistency of this team, too. There have been seemingly countless times where the Patriots have had two outs in an inning and nobody on, and end up scoring runs in the inning. They have scoffed at one-two-three innings with two-out hard fought walks, infield singles, gritty at-bats, all of which have led to crooked-numbered innings being sprinkled in throughout a game. Again, when you consider the fact that Somerset has played 19 one-run games, this is another huge factor that has decided wins and losses.
Finally, although the Patriots will not run their opposition into the ground, they use a balanced attack of stolen base threats and smart, efficient base-running to put themselves into so many of these scoring opportunities. Somerset can certainly use their speed to their advantage. The Patriots rank second in the league in stolen bases (57), have six players with six steals or more (only Lancaster has as many such players), and have two players (Julio Borbon and Justin Trapp) with double-digit stolen bases.
Somerset's offense has manifested ways to torment opposing pitching this year. That might be the most impressive thing about this team.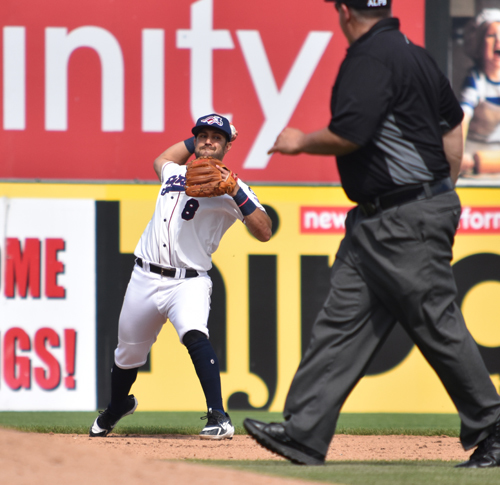 Versatility and Defense
Defense has long been a staple in this franchise's history. Somerset has led the Atlantic League the last two seasons in fielding percentage, and routinely fields one of the best infield/outfield combos in the league. This year has been no different, as the Patriots once again lead the league in fielding percentage (.978%), and have committed the least amount of errors (39).
Alfredo Rodriguez has arguably been the best shortstop in the league this year. With an endless highlight reel of sparkling web gems, and the second best fielding percentage by a shortstop in the league (.962%), he is a surefire candidate for the league's Red, White, and Blue Defensive Team. Rodriguez, who is second in the league in games played (49), certainly doesn't mind constantly finding his name inked into the starting lineup.
"I want to be out there every day. It's a combination of me telling Brett I'm good to go half the time, and him asking me if I'm good to go the other half of the time," said Rodriguez. "I take care of my body as best as I can, and I love the game. All of us do. But I just want to go out there every day and try to win."
Numerous other Patriots players have been excellent in the infield and outfield. Somerset's versatility is yet another boastful reason for their success. In the eyes of Jodie, it is their most important characteristic.
"I know it sounds easy, but you really have to come out every day with that hunger, passion, and desire. And these guys are really trying 100%," Jodie said. "The versatility, the athleticism, and the hunger is what separates us from other teams."
Somerset has had four different players behind the dish this year, four different players at first base, four players at second base, and five players at third. Further, seven different players have played in the outfield. The most versatile players are also their everyday ones. Mike Fransoso (45 games played: tied for second on the team) has started 16 games at second, a game at shortstop, two games at third, and 21 games in left field. Trapp (40 games played) has played 18 games at second base, five games in left field, and 17 games in right field. Craig Massey is another player who can play anywhere in the infield as well as the corner outfield positions. Finally, Danny Dorn has played first base and both corner outfield posts.
"If you get one through nine [in the lineup] to be consistent and on the same page, then it is a dangerous thing. And I think the exciting thing about this team is we have yet to hit our stride as a team," remarked Jodie. "It's been kind of a rotation. Sure we'd love to hit balls out of the yard, and sometimes we will, but for the most part we have to rely on timely hitting and small ball. But I feel really good about a lot of the scenarios we can put these guys in. You need those guys who can fill in at different spots, and we've been doing that and picking guys up who are struggling."
There are a handful of players that can hit at the top, middle, or bottom of this order. There are guys who can bunt their way on and steal bases, or drive the gaps and anchor the middle of a lineup. Rodriguez, Fransoso, Trapp, and Massey have hit in six or more spots in the lineup this year, and Somerset has featured eight different players or more in almost every lineup slot on the batting card in 2018.
However, there has been one glaring weakness with this team, their lack of power, and inability to hit the long ball.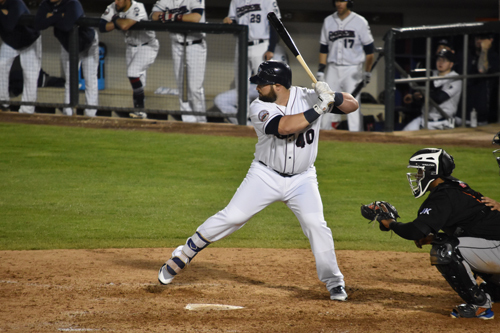 Weakness: Lack of the Long Ball
For any Patriots fan who has kept even a casual eye on the team this year, it is no surprise to find this team dead last in the league in homeruns. With only 23 balls exiting the park, Somerset is well behind every other team in the league. Southern Maryland, the team above them, even has 32. Somerset is the only team in the league not boasting a player with six homeruns.
Baseball is evolving. The homerun is apparent now more than ever. The three absolutes (homerun, strikeout, walk) are changing the sport as we know it. With such a talented lineup, boasting a decent amount of career power threats, it has been so puzzling as to why this Somerset team has struggled so mightily to hit the homerun. The Patriots have died by the long ball on the mound (47 homeruns given up, the most in the league), but they have not been able to generate some much-needed offense of their own at times because the homerun ball has been missing.
The slim amount of leads that the Patriots bullpen have not been able to hold have been because of the homerun ball. Just last week, Somerset led the defending Atlantic League Champions York Revolution 3-2, before a three-run homerun in the eighth and a two-run homerun in the ninth completely demoralized them in a 7-3 loss in front of their home crowd.
Somerset has had to claw and scratch a lot of runs across the board this year. On a night when they are not at their best, they haven't had the instant offense of a home run to help them out. If they find themselves playing for a Liberty Division Championship, or their seventh Atlantic League Championship, arguably the most exciting play in baseball (and lack thereof) could be the reason they come away empty-handed for the third straight year.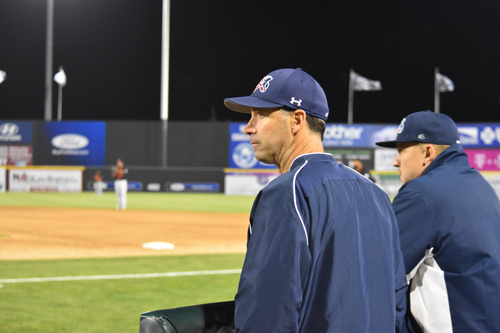 Final Two Weeks
Overall, the Patriots are in great shape to battle for another first half division title under Jodie. It would be the seventh time in 11 total tries that the Patriots won a half-season division title under the direction of the current skipper.
If they continue to do the little things well on offense, play solid defense, and get consistent performances from their pitching staff, the team hopes at the end of the day on July 5, they will be celebrating a guaranteed spot in the playoffs. The Patriots finish up their weekend set with Southern Maryland, before they host the New Britain Bees for the final three home games of the first half. When Somerset visits Southern Maryland in Waldorf for the Fourth of July, they will be hoping that the fireworks will be the icing on the cake of another champagne shower.