News
10/28/2018 2:54 PM
-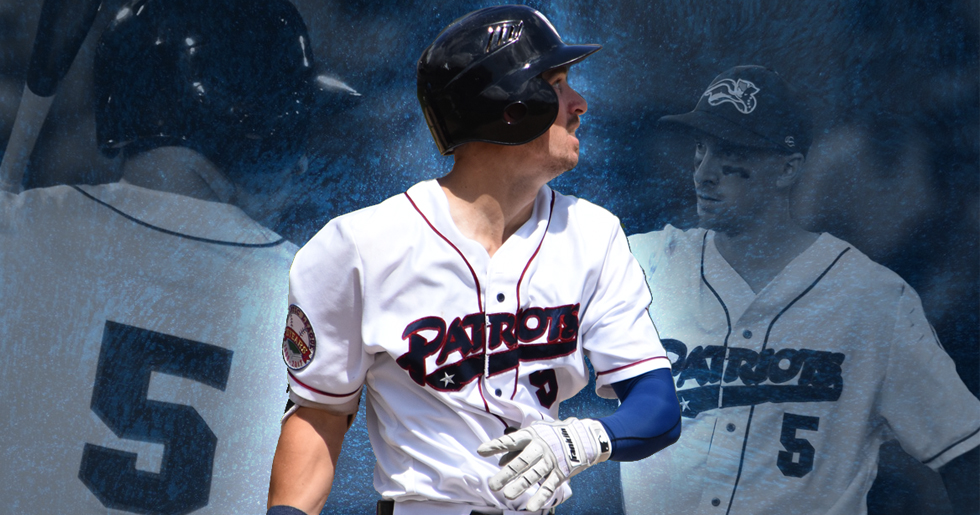 Versatility. Defined as "the ability to adapt or be adapted to many different functions or activities." In 2018, the definition of versatility for the Somerset Patriots was Mike Fransoso.
Fransoso came to the Patriots after two successful seasons with the Rockland Boulders of the Can-Am League in which he hit .282 with ten home runs, 81 RBI, 51 stolen bases and a .400 on-base percentage over 174 games played.
Manager Brett Jodie saw the potential early on for Fransoso to play all over the field, and the Portsmouth, New Hampshire native did not disappoint. He played eight games at first base, 26 games at second base, three games at shortstop, 22 games at third base and 67 in the outfield. For the season, Fransoso made a total of just eight errors playing every position except catcher and pitcher.
"I take pride in all facets of the game and try to be like a Swiss Army knife and do a little bit of everything," said Fransoso during the season.
While he was highly regarded as one of the best defensive players in the league, Fransoso also got the job done with his bat.
Fransoso was among the league leaders for the entire first half of the season and was named an Atlantic League All-Star for the Liberty Division. At the time of his All-Star selection, Fransoso led the team with a .322 batting average to go along with two home runs and 19 RBI over 54 games played. He also led the league with a .426 on base percentage and was top ten in batting, triples, walks and runs scored. He ultimately finished the 2018 season among the league leaders in on-base percentage (13th - .371) and walks (7th – 62).
Despite a tough second half, Fransoso rebounded in the postseason. In the five games against the Long Island Ducks in the Liberty Division Championship Series, Fransoso had four hits, three runs scored, a double, a home run, three walks and four RBI.
He finished second on the team with 120 games played that included 27 multi-hit games and ten multi-RBI games. For the month of May alone, Fransoso hit .382 with five extra base hits, nine RBI and an OPS of .981.
The lefty was one of Somerset's most clutch batters, hitting .330 with runners in scoring position and delivering 39 RBI. With the bases loaded, Fransoso plated 16 RBI in just 14 at bats. On July 8th, Fransoso's 14th inning RBI single led the Patriots to a 2-1 win over the Road Warriors to help pace Somerset's impressive 7-0 start to the second half of the season.
Prior to his time in Rockland and Somerset, Fransoso spent the first three years of his professional career in the Pittsburgh Pirates organization. He owns a .261 batting average with 20 home runs, 191 RBI and 103 stolen bases over his six-year professional career.