News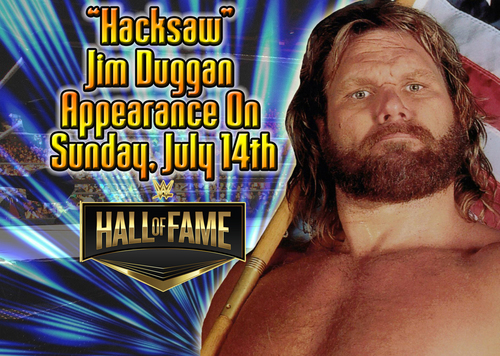 06/19/2019 1:05 PM
-
Bridgewater, NJ- The Somerset Patriots have announced that the team will welcome WWE Hall of Famer "Hacksaw" Jim Duggan to TD Bank Ballpark for an appearance on Sunday, July 14th. Game time against the New Britain Bees is scheduled for 5:05 pm and is presented by Empire Supplies.
Duggan became a fan favorite in the WWE for his patriotic character often seen going up against villains from enemy countries in the ring. He always appeared with his weapon of choice, a wooden 2 x 4 board, over his shoulder and an American flag in his hand. His thumbs up motion accompanied by his battle cry "Hooo" rallied the crowd behind him and usually led to chants of "U-S-A."
Duggan will sign autographs for fans on the main concourse for two hours from approximately 5:00 pm to 7:00 pm. He will be signing one item per person at that time.
Beginning his long wrestling career in the late 1970's, Duggan rose to fame by winning the first-ever Royal Rumble match in 1988. He entered the contest at the 13th position and battled his way to be the last man of 30 standing.
He later defeated Haku in 1989 to earn the right to call himself the "King of Wrestling," proudly wearing a crown as part of his victory.
Duggan joined World Championship Wrestling (WCW) in 1994 and ultimately earned his way to becoming the United States Heavyweight Champion and World Television Champion.
He made his long-anticipated return to the WWE in 2005 and was inducted in the WWE Hall of Fame with the class of 2011.