News
04/25/2019 5:32 PM
-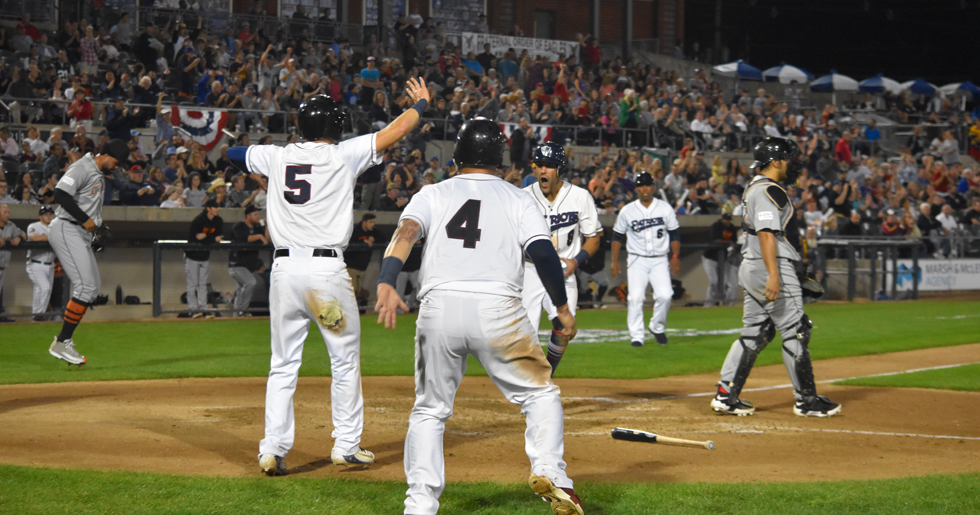 By Marco Meglio
Bridgewater, NJ- The Somerset Patriots quest for their seventh championship in team history begins with old faces in familiar roles and new faces looking to cement their spot among the rest of the pack.
Somerset's 2018 season ended in an extra inning defeat in Game 5 of the LDCS after a remarkable comeback from an 0-2 deficit in the series. Now, they look to bounce back with a core group of veteran players and leaders.
Overall 14 players are returning to the team from 2018 and 15 new players are making their first-time appearance in Somerset. The makeup consists of players who have played for all levels, including nine players with previous MLB service.
Clearly the talent is there, including a well-rounded and familiar coaching staff that made its mark on the team last season. Preaching the fundamentals, the Patriots had the least amount of errors last season, while maintaining the highest fielding percentage in the Atlantic League. They showed patience as well, finishing second in total strikeouts to only the Lancaster Barnstormers.
One of, if not their greatest strength was their pitching. They were first in strikeouts (997), while allowing the second fewest walks among Atlantic League teams. Major contributors such as Mike Antonini, Duane Below, Rick Teasley, David Kubiak, Vince Molesky, Nate Roe, and Zech Zinicola are back with the team, keeping the confidence to come out and do it again at an all-time high. Pitching Coach Jon Hunton is energized to see all the pitchers he's going to work with this season.
"On the returners we got a good group coming back. It's a collection of some of our best. All good guys," Hunton said. "We're at the beginning of the year where we dust off the cobwebs and now we're back at it with a continuous workout every day. We're excited about all the guys, not just the returners, but the new guys as well."
A good mix of players who have played for different leagues is always a plus, especially those who bring MLB experience. Mike Broadway, Logan Darnell, and Brett Oberholtzer are among the incoming players who have been to "The Bigs" and seen what it takes to get there.
Broadway brings plenty of experience, playing for seven MLB organizations over his 14 years of professional baseball. He reached the majors in 2016, throwing in four games for the San Francisco Giants. Broadway's most recent service was with the Kansas City Royals last season.
Darnell had his contract purchased twice in his previous times in Somerset. His MLB service time came in 2015 where he made four starts for the Minnesota Twins. Over nine minor league seasons he owns a 3.94 ERA across 162 starts.
Oberholtzer, the Opening Day starter was originally with the Patriots last season, but had his contract purchased by the Colorado Rockies prior to making any starts. He adds huge starting pitching depth to the rotation, logging 132.2 innings last season with 23 starts for Colorado.
And it's not just pitching. Offensively the Patriots were one of the most fundamentally sound teams in the Atlantic League. They trailed only the Barnstormers for the least number of strikeouts. They also relied on small ball and manufacturing runs as they had the fewest homeruns out of any team. In addition, the Patriots stole 173 bases last year while getting caught only 42 times.
One key piece is All-Star shortstop Alfredo Rodriguez, who had a team MVP season in 2018, and is only looking to improve. Rodriguez remains one of the most respected veterans on the team, returning for his third season with the Patriots. He was one of the most productive hitters last year, slashing .303 with a team-high 131 hits and 55 RBI.
"Every year you try to get better from the previous year," said Rodriguez. "I came in last season putting in the work, trusting the process, and playing with no regrets. I tried to come to the field without being end result oriented and not just focusing on day-to-day results. I put the focus on winning and being the best I could be all around for the entire season. It put me in a position to succeed and that's what ended up happening."
Other integral position players that are returning include Craig Massey, Mike Fransoso, Ramon Flores, Justin Pacchioli, and Yovan Gonzalez. Each bring distinct individual talents to the Patriots, including veteran leadership and postseason experience.
Every player can find themselves, especially in an environment that's so focused towards a winning culture. Massey was one of those players last year.
"Massey was a perfect example. Last year he came into camp and I told him he has to earn everything he's got and he ended up leading the league in batting average. So it's a testament to those guys. You don't have to be a big leaguer to do this stuff and have success. It's always nice to have those young guys out of nowhere, diamonds in the rough," Hunton said.
There's a lot to like with the newcomers on this year's roster. Outfielder D'Arby Myers won a batting title with the Bridgeport Bluefish in 2017, hitting .337 along with 21 doubles and 31 stolen bases. He was picked up by the Baltimore Orioles organization prior to the start of last season.
Michael Ohlman and Rey Navarro are among the group playing for their first time with the Patriots this season. Standing at 6'5", 240 lbs., Ohlman brings pop and consistency from the catching position. In ten seasons of professional baseball, he has cracked 78 home runs, driving in 431 RBI and 176 doubles. He has service time in the MLB, playing in seven games for the Toronto Blue Jays in 2017.
The Patriots add depth on the corner and middle infield positions with the addition of Navarro. The 12-year veteran broke into "The Bigs" in 2015, playing ten games and logging eight hits with Baltimore.
Other players have come in and jelled with the team in just the few days of spring training. New third baseman Will Kengor has been ecstatic with the culture that surrounds the Patriots.
"It is very welcoming here. The environment they built is very conducive to winning. Building a good team with good people," Kengor said.
The Patriots will head into the new season with the utmost confidence that a seventh championship could be on its way!