News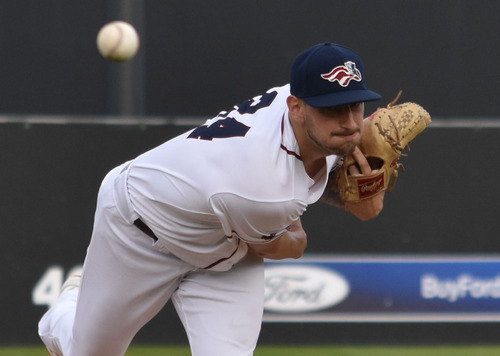 05/30/2019 6:30 AM
-
By Marco Meglio
Bridgewater, NJ - While some pitchers are humbled to have a spot in a rotation, others seek to stand above all else, and capture that ace-like mentality. David Kubiak's performance Wednesday night shows that his bulldog mindset has turned him into the Atlantic League's best pitcher.
On the road against one of the premiere teams in the Atlantic League, Kubiak shut out the Sugar Land Skeeters for eight innings, allowing just three hits and striking out five. More importantly, he extended his scoreless innings streak to 26.2, breaking a record manager Brett Jodie once held as well for a stretch during the 2003 season. The record lasted until 2015, when David Harden finished the season with 23.1 scoreless innings.
"It is well-deserved by Kubiak; it's really a great accomplishment," said Jodie, "I remember how difficult it was for me, so it is awesome to see."
The outing was just another achievement to add to Kubiak's impressive start to the season. He currently leads the Atlantic League with four wins and improved his ERA to a league-best 0.95. The next lowest ERA is owned by Kyle Davies, who stands at 2.40.
In his six starts, he has punched out 34 batters, fourth most in the Atlantic League, while giving up just four runs and 25 hits. The numbers are startling on how dominant he has been, holding batters to just a .185 average and owning a league-lead 0.97 WHIP.
He has worked diligently, with an unmatched pace to each game. The timing of his outs has been key too, limiting any damage with runners in scoring position. Two of his four runs allowed were off solo homeruns.
One of Kubiak's more impressive performances came against Lancaster, where he punched out 11 batters over seven innings, allowing just one hit. The 11 strikeouts were the most in a game by any pitcher in the Atlantic League.
26.2 straight innings of scoreless ball is a testament to Kubiak's work and dominance so far this season.
"That streak is more about [Yovan Gonzalez] than me," said Kubiak. "I'm just trying to get three outs every time I get out there, but Yovi is the one back there making sure if there is a guy on third with two outs that we are not throwing the ball in the dirt."
Kubiak looks to continue his commanding season in his next start, Wednesday June 5th against the Southern Maryland Blue Crabs.