News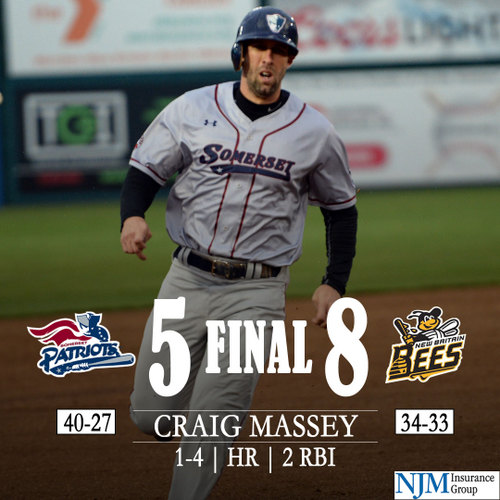 07/04/2019 7:48 PM
-

New Britain, Connecticut - The Somerset Patriots (40-27) dropped Thursday's series-finale to the New Britain Bees (34-33) 8-5 at New Britain Stadium.
New Britain jumped ahead early with three runs in the bottom of the first inning. There were five hits in the inning, including an RBI double from Alejandro De Aza, an RBI single from Jason Rogers and an RBI fielder's choice from Jonathan Galvez.
Somerset answered in the top of the second on Craig Massey's (2) two-run home run to right field. The Bees extended their lead to two in the bottom of the third on a solo home run from Jason Rogers (6).
The Patriots took their first lead of the night in the fifth inning. Jimmy Paredes brought them within a run on an RBI double before Will Kengor (7) launched a two-run home run to put Somerset ahead 5-4.
The Bees tied the game a couple of innings later on an RBI groundout from Darren Ford in the sixth. They then took the lead in the seventh on a two-out RBI single from Rando Moreno and a two-out, two-run double from Logan Moore.
Somerset went down quietly over the final two innings to end the night.
Ari Kaufman (W, 1-0) earned the win with two and two-thirds scoreless innings of relief. Nate Roe (L, 1-1) took the loss after allowing three runs over one inning. Jim Fuller (S, 9) closed the door with a scoreless ninth.
The Somerset Patriots continue their road trip Friday night when they make their first-ever trip to North Carolina to take on the High Point Rockers. First pitch is scheduled for 6:35 pm at BB&T Point.
The 2019 Somerset Patriots Season presented by Ford will continue on the road until Friday, July 12th when the team returns to TD Bank Ballpark for a 7:05 pm game against the New Britain Bees. For tickets, stop by the box office located at TD Bank Ballpark, call (908) 252-0700, or visit www.somersetpatriots.com.