News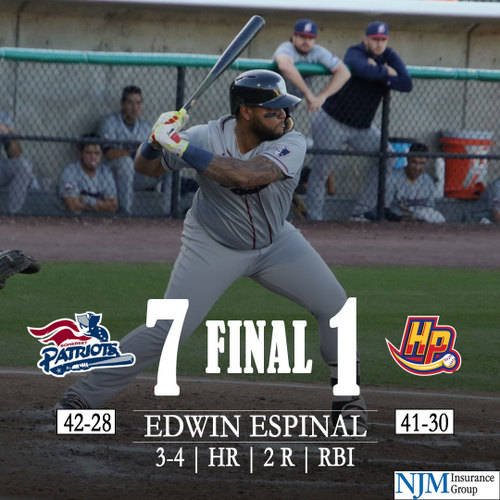 07/07/2019 2:56 PM
-

High Point, North Carolina - The Somerset Patriots (42-28) hit a season-high five home runs in a 7-1 win over the High Point Rockers (0-1, 41-30) at BB&T Point Sunday afternoon.
The Patriots jumped out to a 1-0 lead in the top of the first inning on a Will Kengor (8) solo home run.
The home run parade continued in the third inning. Craig Massey (3) and Jimmy Paredes (4) went back-to-back with solo shots to put Somerset up 3-0, before Edwin Espinal (4) added a solo home run two batters later.
It marked the first time this season that the Patriots hit back-to-back home runs, as well as the first time Somerset hit three home runs in the same inning.
High Point got a run back in the bottom of the fifth on a two-out RBI double from Stephen Cardullo, but that would be it for the Rockers.
Somerset added three more runs in the eighth inning. Paradise (5) skied a solo home run over the left field fence to start the scoring, before Justin Pacchioli added a pinch-hit RBI double and Michael Crouse added an RBI groundout later in the inning.
The five home runs in the game marked a season-high for the Patriots. Somerset finishes their eight-game road trip with 14 home runs.
Ryan Kussmaul (W, 2-2) allowed just one run over six innings to earn the win. Tyler Herron (L, 2-5) gave up seven runs on 10 hits over seven and one-third innings to suffer the loss.
The 2019 Somerset Patriots Season presented by Ford will continue on the road until Friday, July 12th when the team returns to TD Bank Ballpark for a 7:05 pm game against the New Britain Bees. For tickets, stop by the box office located at TD Bank Ballpark, call (908) 252-0700, or visit www.somersetpatriots.com.