News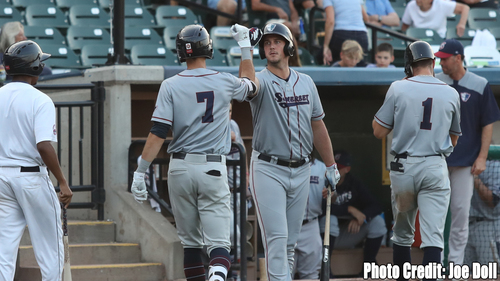 08/07/2019 12:14 PM
-
By Marco Meglio
York, PA - The Patriots officially ended any doubts of their hitting slump Tuesday, trouncing the York Revolution for 16 runs on five home runs and 12 hits.
Coming into the game, Somerset had regained some of its mojo, winning two-straight after a seven game losing skid where they failed to score two runs or more in five of those contests. In a quick turnaround, the 16-run outing gave them 35 runs in their past three contests, the most in a three-game stretch all season.
Tuesday night's win was a total team effort, from all parts of the lineup and pitching staff. Seven players recorded a hit, including three with multi-hit games. Somerset remained patient at the plate, walking 10 times with Alfredo Rodriguez leading the way with three himself. The 10 walks were second most for the team this season; one behind the May 27th outing against Southern Maryland.
The Patriots haven't been known for the long ball this year, but Tuesday was a totally different story. Home runs from Will Kengor, Mike Ohlman, Gabriel Bracamonte, and the newly acquired Teodoro Martinez got the job done.
Ohlman has crushed three home runs, eight RBI and four runs scored over the most-recent three-game win streak. He got the Patriots going in the top of the third last night, launching a moonshot to deep left field and extending Somerset's lead to 5-1. He put the icing on the cake in the top of the fifth, clobbering a 2-1 pitch over the wall in left-center, putting the game to bed and the Patriots up 16-1.
Possibly more impressive was that Somerset left only four runners on base, while striking out just three times.
All 16 runs were scored in the first five innings, including seven and six-run outbursts in the third and fourth innings, respectively. Two doubles and five home runs combined to tie a single-game season high with seven extra base hits. Additionally, the 16-1 victory was their largest margin win of the season, besting their July 14th 14-1 win over the New Britain Bees.
While the Patriots continued to put up points in bunches, Rick Teasley quietly put together one of his more impressive performances of the season, second maybe to being perfect for nine innings on Friday, July 26th. After allowing an early first inning home run, Teasley settled in and tossed six strong innings, allowing just one run and seven hits.
The bullpen followed up with three scoreless frames to close out the game. James Pugliese lowered his ERA to 3.30 with a pair of scoreless innings before newly-acquired Junior Rincon finished out the game with a hitless inning in his Patriots debut.
Coming down the stretch, Somerset will need to string together more performances like Tuesday night if they want to cut down on High Point's 3.5 game lead in the Liberty Division. They look to extend their winning streak to four in a tilt against York Wednesday night.