News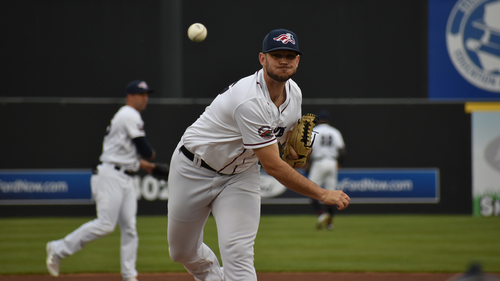 09/10/2019 8:46 AM
-
By Marco Meglio
Bridgewater, NJ - As with any player in professional sports: each has a story to tell, with a voice about their career path and how they got to where they are, and where they want to go. Liam O'Sullivan's is no different, and the goal as always is to get to MLB.
A tall, stocky Irishman coming out of St. Leo College in Florida, O'Sullivan went undrafted with no guarantee he'd ever play for a major league ballclub. Graduated in the spring of 2015, he struggled to find a team to play for, until he latched on with the Frontier Greys for the final stretch of the 2015 season.
"They gave me a chance to get my foot in the door for pro ball and then [the] Joliet [Slammers] gave me a chance the year after that in 2016. That's when I won Pitcher of the Year," said O'Sullivan.
He quickly showed with the Slammers that he was not someone who should be overshadowed. A quality start to the season finally earned him a big-league look. In July of 2016, the Arizona Diamondbacks signed the right-hander to a minor league contract, pending a physical. That proved to be an issue.
An MRI on O'Sullivan's shoulder revealed possible damage, sparking concern for the Diamondbacks and ultimately leading them to pull out of the deal.
"They said there was too much damage to my shoulder, and that the only way they could sign me was if I got it taken care of," said O'Sullivan. "I wasn't feeling any pain, went back to Joliet to see if anyone would give me a shot. In the end of that year I got shoulder surgery, knowing that if someone was to give me a chance, I had to have this fixed."
O'Sullivan finished 2016 with one of his strongest campaigns to date. Named Pitcher of the Year in the Frontier League, he mounted an 11-1 record, 3.33 ERA and threw three complete games across his 121.2 innings. He proved to people that he can be dominant, they just needed to see it.
A hard decision to make, but the right one nonetheless, O'Sullivan opted to have shoulder surgery in 2017, knocking out any shot of pitching that season for Joliet.
One year later and O'Sullivan looked like he hadn't missed a beat. He would posted an 11-4 record with a 3.15 ERA and four complete games (two shutouts). O'Sullivan had never been one to be the lead dog on a team at any level, but he was proving to be just that.
"I've always been a guy who might not have the best stuff on any team that I've played on. I'm a guy who goes about their business. Being a coach's son, you can lead by example. I was that was in college, and once you learn how to do that role, it builds your character," O'Sullivan stated.
Two years and a cup of coffee in the Frontier League pushed O'Sullivan to new heights, along with his drive to play against better competition.
"I had a couple different options when I left Joliet. I knew that If I put up the numbers I put up, in order to where I wanted to get, I needed to take a step in a new league. I wanted to go where the best talent is, and from all the research I did, I thought the Atlantic league was the best independent league in the world. Every night there's big leaguers on each side of the lineup for both teams. The one thing I wanted to do was face the best competition every night."
O'Sullivan had to make an adjustment to the new league, and new level of competition. He struggled to get his feet set, and saw his ERA climb to 4.54 after his June 1st start.
As time went along, he settled in, and stood out as one of the most dominate hurlers in a pitching rotation that featured some of the Atlantic League's best. Since that June 1st start, his ERA dropped 1.43 points, back down to 3.11 and good for sixth among league qualifiers. In addition, he has recorded 11 straight starts of at least six innings and has allowed three runs or less in 10 of his last 11 outings. The righty owned a 1.27 ERA in August.
On September 8th, O'Sullivan tossed his second complete game of the season, scattering two runs on six hits in a losing effort against the High Point Rockers. That was his second of the season, placing him fifth among qualifiers for complete games in the Atlantic League.
"My whole career I've been better over the season. The more innings I get under my belt, the more comfortable I get in the league, the better it's been. I've always been a guy who has flown under the radar. I think with the long season I try to get better every day, and I feel like I've been doing that as the season goes along."
O'Sullivan has been among the top, if not the top candidates for most improved player as the season has gone along. Part of what has made him effective is his ability to throw strikes, but not too many.
"When I miss pitches, I miss in the zone. I get in trouble when I'm in the zone too much, but with that being said my pitches work very well in the zone. My best pitch is my split change, and when I'm able to change speeds with that pitch, it can keep hitters off balance and produce a lot of outs."
Across his 23 starts this season, O'Sullivan has teetered around 65% of his pitches thrown for strikes. He would rather be aggressive in the zone than pitch around batters, something he claims the Patriots pitching staff has done effectively all season.
"We don't walk a lot of guys. Anytime you can keep guys off the base paths it always can help. We have a significant less number of walks than anyone else, which is always a positive."
O'Sullivan has never pitched for a major league organization, but he knows his stuff plays well enough, and the stats tell a similar tale.
"I think nobody's taken a chance. Everywhere I've gone I've put up good numbers. I'm a good clubhouse guy and any organization that takes a chance on me, is another opportunity that I'm going to take advantage of. I can control what I can control."
The fun, energetic charisma with which O'Sullivan carries himself resonates with the locker room and is infectious on game day. He plays with a ton of emotion and wears a lot of his colors on his sleeve. After every inning, he throws up what looks to be a horn but is a love sign across his chest.
When asked about it, he said he had been doing it for years, signifying a love for his family back home in Massachusetts.
"I come from a big Irish Catholic Family. I'm the oldest of five in my family, and my dad always told us that the whole world is going to try to tear you down, so stick together," O'Sullivan said. "Now that were older things stick with us."
A lot of people do not know who Liam O'Sullivan is, but they will soon.
"I'm a professional. I take advantage of opportunities, I'm grateful for everything that I've done in my career. There's much worse things I could be doing instead of playing baseball, which makes me very grateful for everything I have."