News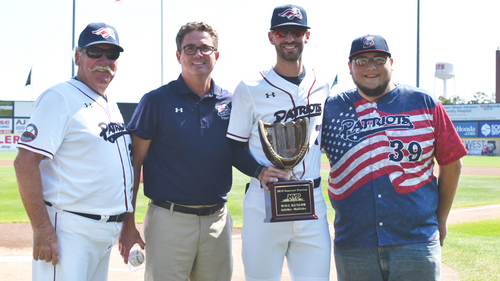 09/22/2019 2:57 PM
-
Bridgewater, NJ - The Somerset Patriots announced Sunday that Will Kengor has been named the 2019 team MVP after posting an impressive first season in the red, white, and blue. The selection was based on fan voting over the final weeks of the season.
"It's an honor. There are a lot of great guys on this team," said Kengor. "We had a good group that stayed with us the whole year. I'm appreciative of all the fans that voted for me and [manager Brett Jodie] and [Director of Player Personnel Jon Hunton] for bringing me in. All the guys that had been here, and the entire Somerset Patriots family that made me feel welcome, made it very easy to play here."
Kengor was the definition of consistency for the Patriots in 2019, slashing no less than .317 at any point during the season while playing in 129 of 138 games. He led the team in batting average and trailed only teammate Alfredo Rodriguez for most games played throughout the season.
For a team that endured multiple injuries and player contracts being purchased, Kengor remained a mainstay in the middle of the lineup for the Patriots. He played a multitude of positions as well, starting games at first base, third base, right field, left field and as a designated hitter.
The 2019 All-Star led the Patriots with 32 doubles, which ranked fifth among qualifiers in the Atlantic League. He also finished second in the league in batting (.321) and hits (152), third in OPS (.890) and fourth in OBP (.399).
Kengor powered the Patriots with his team-high 15 home runs and the list goes on and on. He led Somerset in RBI (65) and walks (60). The walks total helped him crack the top ten in the league.
It's very rare to see one player dominate so many statistical categories on one team, but Kengor did it. He topped all Patriot players in on-base percentage, slugging percentage and OPS. He displayed a bit of speed too, stealing a career-high 22 bases on 28 attempts.
The middle of the lineup saw changes each game, but the one person who remained steadfast in his spot was Kengor. Through thick and thin, Kengor demonstrated that he was one the most professional athletes on the team. A soft-spoken individual who always turned it on when it was game time. He would rarely get flustered either, showing an exceptional ability to keep calm and level headed in front of his team.
Kengor played with the Traverse Beach Bums of the Frontier League prior to his time with the Patriots, but showed no signs of adjusting to the new league. He got off to a red-hot start in a little over his first month, slashing .385 in April and .337 in May.
"You look for consistency with players and Kengor's been the model of it all year," said Jodie. "He's been a pillar in our lineup. He's driven in runs, gotten the big hits, and just been a leader in our lineup. A lot of versatility that just added to everything else that truly made him an all-around valuable player."
Kengor's season ranked him among one of the best players in the Atlantic League, and he's clearly deserving of the team honor.