News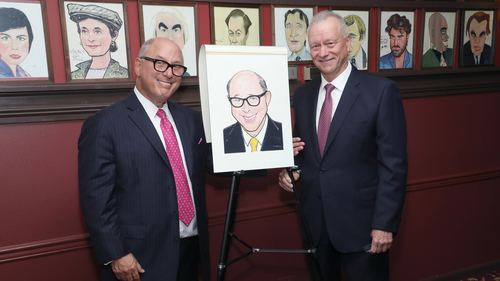 09/22/2019 8:30 AM
-
Somerville, NJ – From the time he was a child, Steve Kalafer always had a special place in his heart for Sardi's, the iconic theater district restaurant in the heart of Broadway for 90 years.
"I often read about Sardi's in show business books and saw it in scenes in numerous movies," said Kalafer. "There were always famous actors and producers there and everybody knew it was one of those special places."
When he was 12-years old, Kalafer saved up his money, dressed up in a suit and tie, and took the train into the city to have lunch at Sardi's and see Bye Bye Birdie on Broadway back in 1961.
As it is with everyone that dines at the restaurant, one of the highlights was viewing the hundreds of caricatures of celebrities from the stage and screen. The one that stood out most to him was Bob Hope for the drawing's accentuations of his nose and chin and the inscription "Thanks for the memory."
"It crossed my mind whenever I was there that wouldn't it be neat to accomplish enough in the entertainment field to one day hang on the wall with all these stars?," Kalafer remarked.
On Thursday, September 12th, that wish became a reality when the renowned entrepreneur and owner of Flemington Car and Truck Country Family of Brands and the Somerset Patriots was immortalized with his very own caricature to hang on the walls of the legendary establishment. Kalafer can now be seen among industry giants adorning the wall, with names like Lucille Ball, Al Pacino, Bette Midler, Tom Hanks, and so many more.
He received the honor for his work in the entertainment industry. For over 25 years, Kalafer has worked tirelessly for The Actor's Fund, an organization that fosters stability and resiliency, and provides a safety net for performing arts and entertainment professionals over their lifespan. He served the Actor's Fund in several capacities, including as a board member, fundraiser, and volunteer treasurer.
In addition to his efforts for the foundation, Kalafer is a three-time Academy Award nominated producer for feature films and documentaries.
Kalafer was joined at the unveiling of his caricature by his family, friends and associates. Long-time friend and Major League Baseball icon Joe Torre even made a surprise appearance to congratulate him on the accomplishment.
But the honor is even more personal to Kalafer, who for close to six decades has enjoyed his trips to Sardi's. He now has lunch there with his grandchildren, who made a simple observation during one of their visits.
"Recently, in a naïve and loving way, one of the kids said, 'Pops,' where is your picture? It was meant out of love for their grandfather and I had to say 'I wasn't there.' Now I can go back and say 'look, I listened carefully to your concerns. There I am'," Kalafer joked.
And to top it off, Kalafer had the opportunity while doing the traditional signing of his caricature to pay his respects to Bob Hope's inspirational words. On his however, Kalafer inscribed, "To Max, Thanks For The Memories."
"I wanted to make sure to reference the great quote, but I have so many memories, that it had to be made plural. Dreams do come true," Kalafer added.