News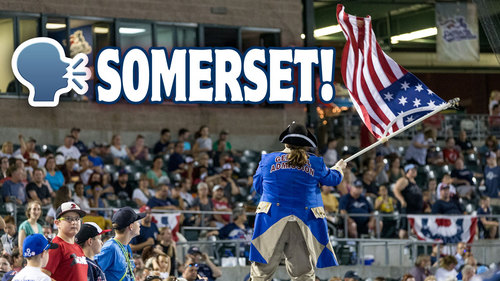 04/25/2020 12:53 PM
-

Bridgewater, NJ- The Somerset Patriots have introduced their first-ever "SOMERSET!" chant submission contest.



The "SOMERSET!" chant has become a staple at TD Bank Ballpark, and now fans have the opportunity to put together their own rendition of this ballpark cheer. The Patriots are accepting fan submissions of the popular "yell" that will be played on the scoreboard during home games moving forward.

The Rules:
Make it creative! Include friends, family, pets, props, fireworks (ok, maybe not fireworks) or anything else that you think will make your video stand out
Be safe! We love to see our fans' passion, but we want to make sure that you continue to adhere to social distancing guidelines and creative your video in a safe and secure environment
Shoot the video landscape (horizontal). This will ensure that the video plays well with our scoreboard format
Wear Patriots swag! We love seeing our fans show their passion by wearing their favorite Somerset Patriots attire

Video submissions will be collected over the coming weeks, with winner announced via social media some time in mid-to-late May. The winners' videos will be featured as an added in-game element, played on the scoreboard at TD Bank Ballpark, to continue the chant's tradition and get all of the fans in attendance excited!

Any questions on further contest guidelines can be forwarded to Marc Schwartz at [email protected].

Stay up to date on all Somerset Patriots news throughout the offseason online; on all of our social media platforms, and on our mobile app. For more information, visit www.somersetpatriots.com.



About the Atlantic League of Professional Baseball (ALPB)
With eight teams in the Mid-Atlantic and Texas, the ALPB is a leader in baseball innovation and a player gateway to Major League Baseball. Through its exclusive partnership with MLB, the Atlantic League tests Major League Baseball rules and equipment initiatives. The Atlantic League has sent more than 950 players to MLB organizations while drawing more than 42 million fans to its affordable, family-friendly ballparks throughout its 23-year history. For more information, please visit www.AtlanticLeague.com.