News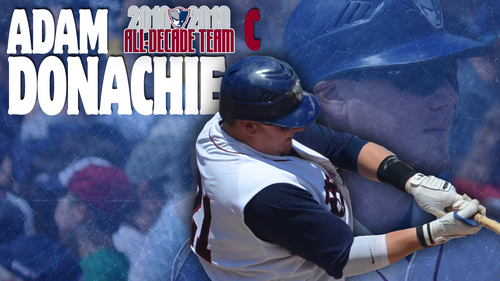 05/25/2020 12:04 PM
-
All-Decade Team: Catcher Adam Donachie
Bridgewater, NJ- The Somerset Patriots have announced that catcher Adam Donachie has been selected to the 2010-2019 All-Decade Team.
"Somerset was some of the best times I had during my career. The atmosphere with the fans, front office, clubhouse and the community made it feel like home," said Donachie. "Winning the championship in 2015 was one of the many special highlights of my time there."
Donachie first joined the Somerset Patriots in 2012 after service in the Kansas City Royals and Baltimore Orioles organizations. He would appear in 165 games with Somerset across 2012 and 2013.
Primarily known as a defensive catcher, Donachie put up his best offensive numbers in an All-Star 2014 season for the Patriots. The 6'1" catcher from Winter Park, Florida finished that season with a .277 batting average, 34 runs scored, 67 hits, six doubles, nine home runs, and 45 RBI in 78 games played. He was named an Atlantic League Post Season All-Star as well that season.
In 2015 when he served as the primary catcher for the championship squad, he hit four home runs and drove in 40 RBI in 87 games.
Donachie left after the season to work under former-Patriots hitting coach Shane Spencer as a coach for the Nexen Heroes in the Korea Baseball Championship. 2017 marked his return to Somerset as a player-coach, in which he played in 71 games and added 54 hits and 24 RBI to his totals.
"Adam Donachie was a special player. He developed such a great relationship with everyone on the team, but especially his pitching staff," said Somerset Patriots manager Brett Jodie. "We all had total trust in him behind the dish because he was so smart and had a plan and executed that plan. He made everyone feel more at ease because he was in total control of the game. 'Donny' also was a guy you wanted up in big time situations. He came up with so many clutch hits in his time with the Patriots. 'Donny' did so much more for the team than just his play on the field. He brought so many guys together and built many meaningful relationships. He showed everyone what it meant to represent the Patriots in all capacities. Everyone around him also understood quickly how important winning was to him and playing the game the right way. Adam was a great teammate. Gave everything he had every night and day. He will always hold a special place in my heart and is truly a great friend."
Overall, he has hit .250 with 24 home runs, 171 RBI and 57 doubles over 401 games during his Somerset career.
Voting took place online and over 5,000 fans casted their ballots for their favorite players at each position from January 3rd through April 15th. The Somerset Patriots All-Decade Team will be announced over the next few weeks.