News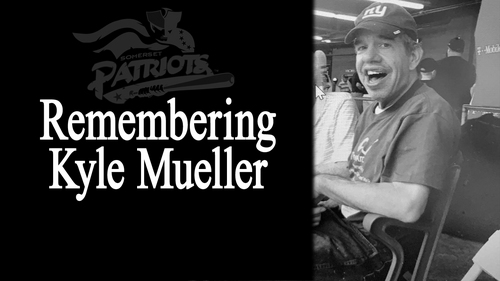 05/27/2020 8:35 AM
-
Bridgewater, NJ- The Somerset Patriots mourn the loss of our friend Kyle Mueller. It was our pleasure to get to know you as a fan and person over the many years at the ballpark. You will be missed!
Kyle Mueller, 58, passed away on Friday, May 22, 2020 after battling a short illness. Kyle was born in Morristown, New Jersey and lived in Bridgewater since 1968. He worked at the Somerset County ARC Occupational Program in Branchburg for the past 38 years.
Kyle loved meeting people everywhere he went and once he met you, he considered you a forever friend. He was a true angel, whose smile, laughter, mighty handshake, thumbs up and happy personality will be missed by all who knew him. Kyle loved his classmates from the Bridgewater-Raritan West graduating Class of 1982. Kyle enjoyed attending the Somerset Patriots games and watching the New York Yankees. His favorite pastime was participating in the Special Olympics where he won many medals for the softball throw. He enjoyed bowling and dances with his friends at the supervised apartment. He loved spending his time with family and friends.
He is predeceased by his father, Rudolf Mueller, Jr., his brother, Glenn Mueller and his step-father, Richard Holmberg. He leaves behind his loving mother, Nancy Mueller Holmberg, his sister, Gail Mueller and her partner, William Ames, his sister, Linda O'Brien and her husband, Kenneth O'Brien and their children, his adoring niece and nephew, Meghan and Matthew O'Brien and his brother, Kirk Rudy Mueller and his wife Annette and their son Colton.
Memorial contributions may be made to the Somerset County Special Olympics, Area 10, P.O. Box 851, Somerville, NJ 08876.
Services will be private with a celebration of Kyle's life at a later date with family and friends. Arrangements by Bruce C. VanArsdale Funeral Home, Somerville.