News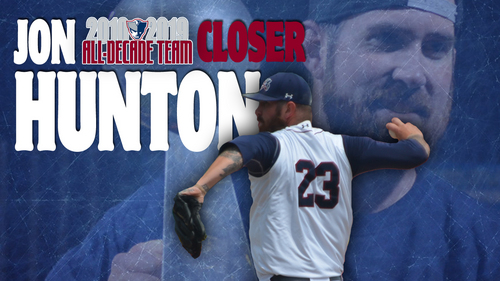 07/06/2020 3:01 PM
-
All-Decade Team: Closer Jon Hunton
Bridgewater, NJ- The Somerset Patriots have announced that Jon Hunton has been selected as the closer of the 2010-2019 All-Decade Team.
"It's always an honor to be chosen by the fans," said Hunton. "I was very fortunate to play on some great teams with so many great players, in front of the best fans. And I attribute it all to that."
Hunton spent six seasons as a record-setting relief pitcher; the latter four of which he was also the Director of Player Personnel.
The North Plainfield, New Jersey native was twice named an Atlantic League All-Star (2013 and 2016) and has won three Atlantic League Championships, including two with the Patriots (2008 and 2015).
Hunton broke the Atlantic League record for saves in a single-season with 49 in 2014. He finished that season as the Atlantic League's "Closer of the Year" for a performance that also included a 2.08 ERA and 33 strikeouts in 56.1 innings pitched over 59 games.
In 2014, Hunton became the first player in professional baseball to hold the title of Director of Player Personnel while still playing. The 6'9" closer either led or finished second in the league in saves in four straight seasons (2013-2016).
Hunton had 277 career saves over a 15-year career that took him all over the United States and around the world.
Hunton's 37 saves led the league during the 2016 season and helped him shatter the Atlantic League career saves record. He broke the record held by Southern Maryland's Jim Ed Warden on May 10th and added to the mark to finish with 165 saves going into 2017.
The 6'9" closer finished second in the Atlantic League in saves in 2015 with 32. He also carried a 3.09 ERA over his 50 appearances on the year.
Hunton missed most of the 2017 season with injuries and recorded two saves over 15 relief appearances. He finished his Atlantic League career as the single season (49, 2014) and all-time saves leader (167), 158 of which came with Somerset.
He moved into the role of pitching coach upon retiring from playing before the 2018 season. At the time, he also became the Director of Baseball Operations, a position he still holds today.
"It can be extremely tough to find a durable, reliable and consistent force to place at the back end of your bullpen to shut down the opponent when the game is on the line," said Somerset Patriots manager Brett Jodie. "It takes a special person with a strong mindset and a certain uniqueness to thrive in 'the closer' role. We certainly had that in Jon Hunton. What a luxury it is to have someone that was so good for so long in that role. It really made everyone more confident at the end of a ballgame knowing we had 'the guy' who was comfortable and extremely effective closing out the game. Jon has now takin his work ethic and passion from his pitching days and focused it on being a great pitching coach and an outstanding director of player development. Jon takes extreme pride in making sure he provides every detail to future Patriots to make them feel as comfortable as possible and understand what they are signing up for. Hunton also loves to talk baseball with his pitchers and works tirelessly to help them grow and achieve their goals. It is an absolute pleasure to work alongside 'Big Jon.' He is a huge part of our success with the Patriots and look forward to many more fantastic years."
The North Plainfield, New Jersey native has experience in the Chicago Cubs and Oakland A's organizations, including a season at both the Double-A and Triple-A level.
Voting took place online and over 5,000 fans casted their ballots for their favorite players at each position from January 3rd through April 15th. The Somerset Patriots All-Decade Team will be announced over the next few weeks.