News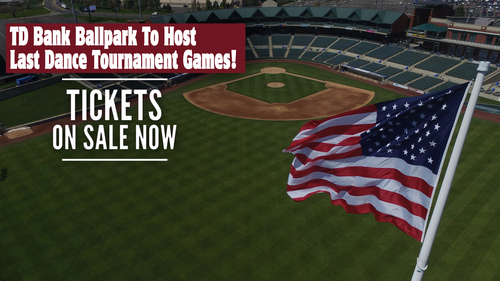 07/19/2020 11:59 PM
-
Bridgewater, NJ - The New Jersey Last Dance World Series, a statewide tournament for scholastic-aged players and recently graduated high school seniors, will host games at TD Bank Ballpark.
Mike Murray, the head baseball coach at St. Joseph High School in Metuchen, founded the Last Dance to help compensate for the absence of a 2020 scholastic season, which the coronavirus pandemic wiped out.
United States Specialty Sports Association, a Florida-based governing body, is sanctioning the tournament, which is not affiliated with the NJSIAA or any of the statewide athletic association's member schools.
The Last Dance is considered a youth sporting event. As such, participating teams are prohibited from using school-issued equipment and uniforms. The tournament will follow national federation on-field rules.
The Last Dance tournament tickets for games to be played at TD Bank Ballpark are $5.00. The cost is to help defray the expense of conducting games at professional venues, where ballpark operations staff will help provide a wonderful gameday atmosphere. The stadiums will also help facilitate social distancing among spectators.
Tickets will be needed for each individual game, as the ballpark will be cleared after each game is played.
Tuesday, July 28
North Region Final Four:
10:00 am: BC Crusaders (Bergen Catholic) vs. Tidal Wave (Delbarton)
1:00 pm: DiamondBacks (Don Bosco Prep) vs. Cranford Cougars
All players, coaches, and umpires must adhere to the protocols and guidelines of Governor Murphy's administration delineated for youth sports, which include health screenings, temperature checks and other safety measures.