News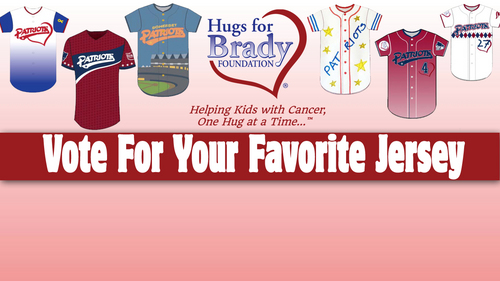 07/12/2020 3:38 AM
-
Bridgewater. NJ- The Somerset Patriots have announced the finalists for the Design A Jersey Contest to benefit Hugs For Brady.
The team received dozens of submissions and narrowed the finalists to six jerseys that fans can now vote on through Sunday, July 19th.
The top vote-getter from all the balloting platforms will be announced and have their jersey produced and auctioned off online through a DASH Auction. All proceeds of the auction will benefit Hugs For Brady.
Hugs For Brady is dedicated to helping children with childhood cancers. Sherrie and Michael Wells started the foundation in 2009, shortly after their 13-month old son Brady was diagnosed with Non-Differentiated Acute Leukemia, a very rare form of leukemia. In 2010, Brady passed away at 23 months old, after he had bravely battled the disease for ten months. Since that time, Hugs For Brady has raised over $2,000,000 to help kids with cancer.