News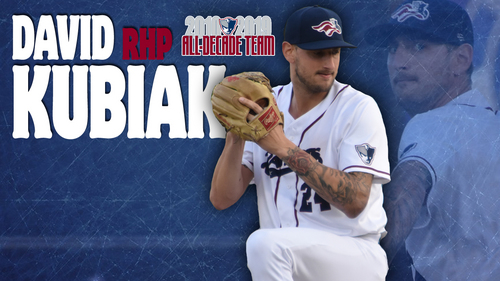 07/13/2020 1:15 PM
-
Bridgewater, NJ- The Somerset Patriots have announced that right-handed starting pitcher David Kubiak has been selected to the 2010-2019 All-Decade Team.
"The Patriots have been a 'home base' for my career and I couldn't have asked for a more supportive staff, front office, and ownership family. I'm honored and humbled," said Kubiak.
The 6'7" righty enjoyed his best season with the Patriots last year, posting a 7-1 record with a 1.76 ERA (16 earned runs over 82.0 innings pitched) with 82 strikeouts over 12 starts. At the time immediately after his last start before Union Laguna (Mexico) purchased his contract in early July, Kubiak led the league in wins, ERA, strikeouts, WHIP (0.90), winning percentage (.875), batting average against (.173) and ranked second in innings pitched.
The Riverhead, New York native's impressive season was highlighted by a number of standout performances and a historic stretch. Kubiak was named the April/May Atlantic League Pitcher of the Month for a 4-0, 0.95 ERA start to his season. He struck out 10 or more batters on three separate occasions, including an 11-strikeout performance against the Lancaster Barnstormers on May 10th in which he allowed just one hit over 7.0 innings and 13 punchouts over seven shutout innings against the York Revolution on June 23rd. He also worked a complete game two-hitter against the Southern Maryland Blue Crabs at home on June 16th and was the starting pitcher for the Liberty Division in the 2019 Atlantic League All-Star Game.
Most notably, Kubiak was etched in the Somerset record books with 33.2 consecutive innings in which he did not allow a run from May 10th to June 4th. Overall, Kubiak allowed more than two earned runs in only one of his 12 starts last season, which happened to be his final start (July 4th at New Britain).
Kubiak has consistently posted strong numbers in his previous three seasons in Somerset. The SUNY Albany alumnus went 8-3 with a 3.40 ERA and 95 strikeouts over 82 innings pitched in 14 starts with the Patriots in 2018. He was 3-0 with a 1.50 ERA and a 36/4 K/BB rate over his first five starts of the year, and later enjoyed a dominant stretch of five starts from July 3 to July 25 over which he went 4-0 with a 1.34 (five earned runs over 33.2 IP) and 42 strikeouts. At the time that his contract was purchased by Generales de Durango (Mexico) in early August, Kubiak led the league in ERA (2.55), was tied for the league lead in wins (8) and ranked second in strikeouts (93).
The former Great Dane made 21 appearances (18 starts) with the Patriots in 2017. He earned five wins and carried a 3.83 ERA with 117 strikeouts against 34 walks over 112.2 innings pitched. After starting the year as a reliever, Kubiak transitioned into the starting rotation and was later selected to the 2017 Atlantic League All-Star Game. The Fubon Guardians (CPBL) purchased his contract in late August, at which time Kubiak ranked second in the league in strikeouts (117) and tenth in ERA (3.83).
Kubiak was to enter the 2020 season ranking among franchise leaders in a number of pitching categories. The right-hander currently lists third in franchise history in ERA (3.09, min. 225 innings pitched), fifth in strikeouts (294), 11th in games started (44), 12th in wins (20), and 14th in innings pitched (276.2). Overall, he is 20-13 with a 3.09 ERA and 294 strikeouts over 276.2 innings pitched in his three seasons in Somerset.
"It is an extremely nice feeling to know you have a great chance to win a game before it starts. When you have a horse on the mound like David Kubiak, that is exactly how you feel," said Somerset Patriots manager Brett Jodie. "What a special talent David is, who continues to evolve and develop his game to get better and better. Kubiak has put the team on his back on many occasions and would not except anything less than a win for his team. David is a fierce competitor on the hill, but a great fun-loving guy off the field. His teammates love being around him and he makes sure everyone stays loose and has a good time. It is an absolute pleasure to have Kubiak as a Patriot with so many great memories and look forward to possibly creating more."
Prior to the Patriots, Kubiak carried a 1.42 ERA over three appearances in the New York Yankees organization at the Double-A level in 2016 sandwiched around 20 games (15 starts) with the Bridgeport Bluefish – his first stint in the Atlantic League. In Bridgeport, Kubiak went 7-4 with a 3.75 ERA and 106 strikeouts over 100.2 innings of work.
Kubiak is 56-42 with a 3.42 ERA, 13 saves and 806 strikeouts over 799.2 innings pitched across all of the stops he's made in his eight-year professional baseball career.
Voting took place online and over 5,000 fans casted their ballots for their favorite players at each position from January 3rd through April 15th. The Somerset Patriots All-Decade Team will be announced over the next few weeks.