News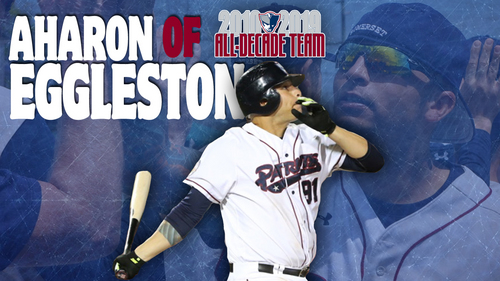 07/19/2020 8:25 PM
-
All-Decade Team: OF Aharon Eggleston
Bridgewater, NJ- The Somerset Patriots have announced that Aharon Eggleston has been selected as an outfielder for the 2010-2019 All-Decade Team.
"Thank you to the fans for not only voting for me, but always showing me love through the highs and lows during my time in Somerset," said Eggleston. "You all truly made it the perfect place to play! Thanks to Big Jon and Brett for always believing in my talents."
Eggleston, a three-time Atlantic League All-Star (2013, 2015, and 2016), played in Somerset for five seasons from 2013-2017. In addition to his All-Star selections, Eggleston was named a Post-Season All-Star in 2013 and 2015, as well as a member of the 2016 Atlantic League Red, White, and Blue All-Defensive Team.
The lefty outfielder's 2013 campaign included a .294 average over 120 games with eight home runs, 56 RBI, 12 stolen bases and a league-high 93 runs scored.
After struggling in 2014, the San Diego, California native rebounded in 2015, finishing second in the league in on-base percentage (.390) and seventh in batting (.289), while also tallying five home runs and 46 RBI.
Eggleston continued his strong play into the postseason that year, leading the eventual Atlantic League champions with nine runs scored, including a .333 average, two home runs, three RBI and a team-high .529 on-base percentage.
In 2016, "Eggy" hit .310 with eight home runs and 55 RBI. His batting average ranked second on the team and seventh in the league, while his .388 on-base percentage led the team and ranked fourth in the league. Additionally, Eggleston finished second on the team in runs (73) and hits (142). Defensively, he recorded just two errors in 203 chances in the outfield.
During his final season in 2017, he hit .263 and drove in 41 runs in 101 games played. Eggleston's consistency and high caliber of play on the field, along with his graciousness off it, made him one of the most popular players in team history.
"What a joy is was to have Aharon Eggleston as part of our organization for five wonderful years. What a model of consistency and professionalism," said Somerset Patriots manager Brett Jodie. "As far as I am concerned Eggy should have been a major league outfielder, but was never given the opportunity in an MLB organization. He had all the tools and the work ethic to go along with it. You can ask anyone and they will agree he was always a tough out. Great on base percentage. Very underrated outfielder and just a pleasure to be around. Eggy truly was the total package as a player and person. He was a huge reason we had the successful Patriot seasons we did. Eggy will always hold a special place in my heart."
For his Somerset career, Eggleston had .290 batting average, 332 runs scored, 538 hits, 88 doubles, seven triples, 26 home runs and 223 RBI in 518 games.
Voting took place online and over 5,000 fans casted their ballots for their favorite players at each position from January 3rd through April 15th.