News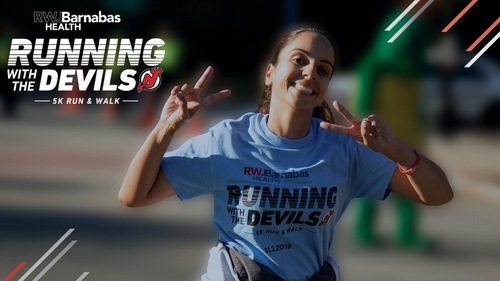 09/28/2020 3:55 AM
-
WEST ORANGE, NEW JERSEY – As frontline workers and communities across New Jersey and the country continue the battle against the COVID-19 pandemic, RWJBarnabas Health, in collaboration with the New Jersey Devils, today announced the annual RWJBarnabas Health "Running with the Devils 5K Run and Walk" will transition to a virtual format, with multiple opportunities to participate from October 1–25, 2020.
This event supports the commitment of both RWJBarnabas Health and the New Jersey Devils to build healthier communities by promoting healthy, active lifestyles and world-class healthcare. 100% of proceeds from the event will benefit RWJBarnabas Health's Emergency Response Fund, which provides the necessary resources to help treat the most critical patients; ensures the safety of all caregivers, frontline workers and staff, and manages ongoing preparation to protect surrounding communities for any potential resurgence of the virus or other emergencies.
The new virtual format is designed to encourage greater participation as individuals can run or walk within their communities or even in their own homes, over an extended period of time. Several New Jersey Devils players and their wives as well as alumni including Ken Daneyko, Grant Marshall, Bryce Salvador and others will participate in the event, by running in their communities and also providing encouragement through audio messaging on the RunGo App, the platform that will host the virtual race.
"Our partnership with the New Jersey Devils is centered on improving the health within our communities, and thanks to an insightful team and meticulous planning, I'm thrilled we will continue this tradition in a safe and responsible way," said Barry H. Ostrowsky, President and Chief Executive Officer, RWJBarnabas Health. "The virtual RWJBarnabas Health 'Running with the Devils 5K Run and Walk' will have special meaning this year, as we recognize the selfless and heroic efforts of frontline workers who continue to go above and beyond to battle COVID-19."
Registration is now open. Once registered, participants download the RunGo App, and beginning October 1 choose from three race themes/routes: Running with the Devils; Running with the Animals and Running with Our Heroes. Beginning October 1, participants can run in their neighborhood, at a local park in their community and even on a treadmill. Based on the theme selected, runners and walkers will enjoy audio messages of encouragement throughout their run, from New Jersey Devils players and frontline heroes and learn all about the animals at the Turtle Back Zoo.
Registrants can participate as many times as they would like from October 1 - 25, and submit their times via the RunGo App, which will register the best time submitted by Oct. 25. Awards will be presented for the top three male/female participants, and top three winners in each age category.
Exciting fundraising incentives are being offered for individuals and teams based on benchmarks of $100, $250, $500 and $1000, and include signed New Jersey Devils merchandise and a Virtual Video Conference with current players and alumni including Ken Daneyko, Grant Marshall and Bryce Salvador, among others.
"We are thrilled to once again partner with RWJBarnabas Health for the 4th annual 'Running with the Devils 5K Run and Walk,'" said New Jersey Devils President Jake Reynolds. "This year's virtual 5K provides a unique, safe and exciting opportunity for our fans to get involved, make an impact and honor our frontline workers and healthcare heroes. I am looking forward to hitting the pavement and clocking those miles with my family throughout October."
All paid entries will have access to a custom training program with videos from RWJBarnabas Health Wellness Experts including strength, agility and conditioning tips. Additionally, participants will have access to nutrition tips from RWJBH Dieticians and Wellness Experts.
Registration for a 5K "virtual runner" ages 12+ is $25, and registration for a walker ages 12+ is $20. Children 11 and under are FREE. For more information on the event, or to register for the 2020 Virtual RWJBarnabas Health "Running with the Devils 5K Run and Walk" from October 1-25, please visit rwjbh.org/runningwiththedevils.
About RWJBarnabas Health
RWJBarnabas Health is the largest, most comprehensive academic health care system in New Jersey, with a service area covering nine counties with five million people. The system includes eleven acute care hospitals – Clara Maass Medical Center in Belleville, Community Medical Center in Toms River, Jersey City Medical Center in Jersey City, Monmouth Medical Center in Long Branch, Monmouth Medical Center Southern Campus in Lakewood, Newark Beth Israel Medical Center in Newark, RWJUH in New Brunswick, RWJUH Somerset in Somerville, RWJUH Hamilton, RWJUH Rahway and Saint Barnabas Medical Center in Livingston; three acute care children's hospitals and a leading pediatric rehabilitation hospital with a network of outpatient centers, a freestanding 100-bed behavioral health center, two trauma centers, a satellite emergency department, ambulatory care centers, geriatric centers, the state's largest behavioral health network, comprehensive home care and hospice programs, fitness and wellness centers, retail pharmacy services, a medical group, multi-site imaging centers and an accountable care organization.
RWJBarnabas Health is New Jersey's largest private employer – with more than 35,000 employees, 9,000 physicians and 1,000 residents and interns – and routinely captures national awards for outstanding quality and safety. RWJBarnabas Health in partnership with Rutgers University is creating New Jersey's largest academic health care system. The collaboration aligns RWJBarnabas Health with Rutgers' education, research and clinical activities, including those at the Rutgers Cancer Institute of New Jersey - the state's only NCI-designated Comprehensive Cancer Center - and Rutgers University Behavioral Health Care.
About the New Jersey Devils
The New Jersey Devils are part of the 31-team National Hockey League, with teams throughout the United States and Canada. Established in 1982, they are entering their 37th season in the Garden State. During that time, the team has won three Stanley Cup Championships: 1995, 2000 and 2003. Follow the Devils at www.NewJerseyDevils.com, on Facebook, Twitter, and Instagram. The New Jersey Devils organization is a Harris Blitzer Sports & Entertainment property.