News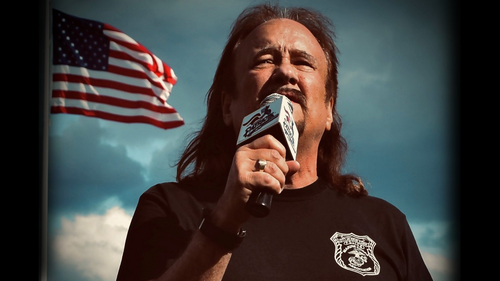 08/18/2020 1:19 PM
-
Bridgewater, NJ- The Somerset Patriots are very sad to have to say goodbye to our friend Frosty Lawson.
Frosty passed away on Friday, August 14th due to complications from cancer.
He was a beloved singer and bugler for 17 years at our annual "Veterans of America Day" at TD Bank Ballpark. In addition, Frosty performed for many veterans' events around the state.
We, like so many who knew Frosty, saw what a kind and generous man he always was to veterans and everyone he encountered.
Our thoughts are with all of Frosty's family and friends during this difficult time.
Rest In Peace Frosty. You will be missed!
Obituary of Forrest Charles Lawson
Forrest C. Lawson, also known as "Frosty", 64, passed away Friday, August 14th, 2020. He is survived by his wife, Sandy Lawson; his daughters, Morgan and Justine Lawson; his mother, Carrie Mayes and stepfather, Max Mayes; his younger siblings, Tammy Myers, Lee Sisk, and Lynn Sisk Sweeten; and many nieces and nephews.
Frosty was born on May 1st, 1956 in Wichita, Kansas to Carrie Mayes (nee Bobier) and Jerry Sisk. He was adopted by Chester Lawson. Frosty's love for music began in his early years. In middle school and high school he was a member of the school band. Frosty graduated from Valley Center High School in 1974. He continued his studies in music and earned a Bachelors in Music Education and a Masters Degree in Music Performance, Theory, Composition, and Arranging at Kansas State University. During his time at Kansas State, he was a member of Phi Kappa Tau and an assistant band director.
He met his wife Sandy in Wichita on August 29th, 1982. Frosty and Sandy moved to Haledon, New Jersey in 1984 and married on November 16th of the same year. They moved to Wayne in 1989, where their daughters, Morgan and Justine were born, and then settled in Haskell in 1993.
Frosty was a multi-talented musician who was known best for his singing, piano, and trumpet playing, although he was also skilled in many other instruments. He was a singer, music arranger and producer, songwriter, teacher, entrepreneur, actor, family man, friend, and colleague. He won five Native American Music Awards, four with Felipe Rose, formerly of "The Village People." He has worked with so many artists throughout his career, and made numerous appearances in movies and television. But above all, he made his living doing what he loved the most: creating and playing music, and surrounding himself with others who shared his creativity and passion.
Frosty was a lifelong Kansas CIty Chiefs and Kansas City Royals fan. He was also a huge history enthusiast and a member of the 3rd New Jersey Volunteer Infantry Civil War Reenactors unit, and enjoyed sharing his passion with students through living histories. He was a 3rd degree black belt in Taekwondo and taught for many years at Park's Taekwondo in Haskell, NJ.
Memorial visitation will take place at M John Scanlan Funeral Home Friday August 21 from 5-7pm. A memorial service will begin at 7pm. To accommodate more people, both indoor and outdoor areas of the funeral home will be in use, so please dress accordingly. If possible, please keep your visit brief to make sure that everyone is able to pay their respects. Face coverings are required.