News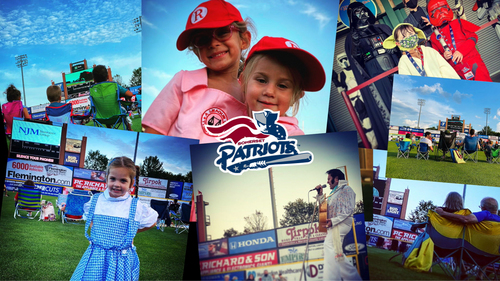 09/30/2020 10:18 AM
-
Bridgewater, NJ- Despite the Atlantic League season not happening as planned, the Somerset Patriots found a way to bring entertainment and a much-needed distraction to their community in the most difficult of circumstances.
The Somerset Patriots used TD Bank Ballpark for 76 events ranging from a professional baseball series to movies, religious services, dance recitals, graduations, and concerts.
COVID-19 specific fundraisers, collections, and blood drives also took place to support our health care heroes at RWJBarnabas Health.
"It certainly was not the summer anybody expected, but we were proud to serve our community," said Somerset Patriots President/General Manager Patrick McVerry. "It's our continuing commitment to Somerset County and Central New Jersey. We will be here for you through the good times and the tough ones as well."
The front office put together a COVID-19 readiness plan for operating TD Bank Ballpark that included everything from social distanced seating, hand sanitizer stations, masks required when moving around the ballpark, and many more protocols to help provide a safe environment for everyone at every event.
The Last Dance high school baseball tournament allowed scholastic-aged players and recently graduated high school seniors to play ten tournament games at TD Bank Ballpark.
Starting in June, the Red Lot became the site for drive-in movies when New Jersey allowed people to gather for outdoor events. Drive-ins were also used for corporate events and fundraisers, including one for the Boys & Girls Club presented by Horizon Blue Cross Blue Shield of New Jersey.
Once state guidelines allowed, the movies were moved into the ballpark with the scoreboard serving as the screen and the playing field as seating. The Summer Movie Series played a dozen classics including Field of Dreams, The Sandlot, and Star Wars Episode IV: A New Hope. The smell of popcorn wafted through the ballpark as fans relived film favorites or introduced them to their children for the first time.
The SOMERSET Professional Baseball Series was created to allow local professional talent to play for two teams run by the organization. The series began on July 17th and ran through August 22nd. All 13 games of the series were sellouts of the allowed 450 people, played before socially distanced crowds that provided energy and enthusiasm for both teams throughout the series. Any given night, generations of Somerset Patriots fans cheered alongside fans that embraced the fledgling New Jersey Blasters.
"We couldn't be happier with the way the series ran and the response from our fans and community," McVerry said. "Our goal was to provide baseball to our community and bring some joy back to our area. We feel our staff and the players were able to do that in a very safe and enjoyable way. We've heard nothing but positive reviews from those that were able to grab the hottest ticket in town or watch from home."
Two graduation ceremonies were conducted on the field for Bridgewater-Raritan High School to give their seniors a proper send off and allow families to share the joy of commencement together. Far Hills Country Day School also held a graduation at the ballpark for their eighth graders.
Young dancers from Gotta Dance, Triangle Dance, and the Dance Factory took the field to perform and enjoy time with friends and family on perfect summer nights.
A Labor Day comedy show featured New York based comedians Sam Morell, Jared Freid, and Joe List, while award-winning performer Jim Barone rocked fans with a two-and-a-half hour tribute to Elvis Presley in mid-September.
With synagogues unable to observe the High Holy Days together in a traditional manner, the Kalafer family donated the use of TD Bank Ballpark for Rosh Hashanah and Yom Kippur services.
The Somerset Patriots now turn their attention to 2021 and what the season will look like. It was recently announced that MLB has named the Atlantic League its first Partner League and expanded their relationship. The Somerset Patriots had a leadership role in the creation of the ALPB-MLB partnership in 2019 and continues to be a strong part of the new agreement.
"We are excited to turn the page on 2020 and hope to see a return to what we are all used to here," added McVerry. "It's been an extremely difficult time for everyone and we assure you that we are all in this together. The Somerset Patriots are here to stay and are excited to move forward with our fans, our partners, and our community."