News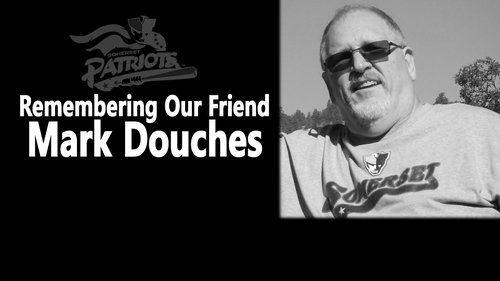 11/19/2020 12:26 PM
-
Bridgewater, NJ- The Somerset Patriots mourn the passing of our friend Mark Douches.
Mark was a season ticket holder since 2016, an active member of our Fan Club, and a passionate fan of the team. His son, Steven, had performed the National Anthem at TD Bank Ballpark a number of times prior to Patriots games.
Our thoughts and prayers are with Mark's family and friends during this very difficult time. Mark's memory will be honored at TD Bank Ballpark.
We have lost a valued member of the Somerset Patriots family. Mark will be missed dearly at the ballpark.
Obituary
Mark A. Douches, 62, of Scotch Plains passed away on Tuesday, November 17, 2020. Born to Charles and Gladys Douches, he grew up in Scotch Plains and attended Scotch Plains Fanwood High School, Class of 1976. He went on to graduate from Lebanon Valley College with a Bachelor's Degree.
Mark was a lifelong resident of Scotch Plains, and was an active member of All Saints Episcopal Church, where he sang in the choir and served as a Verger. He was also a member of the Somerset Patriots Fan Club, the Majestic Lanes Monday Night Bowling League, and recently took up playing the Ukulele. He also loved to vacation with family and friends, especially on cruises to the Caribbean, where he loved to snorkel. Mark was a member of the Cranford Dramatic Club and the Westfield Community Players. He often performed in productions or worked as stage manager behind the scenes.
Mark worked as an IT Security Analyst with Quest Diagnostics for many years.
He is survived by his beloved wife of 34 years, Maryellen (McCormack) Douches; his son, Steven Douches and his wife, Dayna; and his brother, Alan Douches and his wife, Rose Tamberino; and by his niece, Amelia Douches; as well as by countless other relatives and good friends.
Mark was so excited in becoming a grandfather for the first time this coming February. Every time he mentioned it, his eyes lit up.