Summer Movie Series

The Somerset Patriots have announced that the team will host a Summer Movie Series with seating on the field at TD Bank Ballpark presented by RWJBarnabas Health, NJM Insruance Group, T-Mobile, PSE&G, Horizon Blue Cross Blue Shield of New Jersey, NJEA, and Flemington Department Store.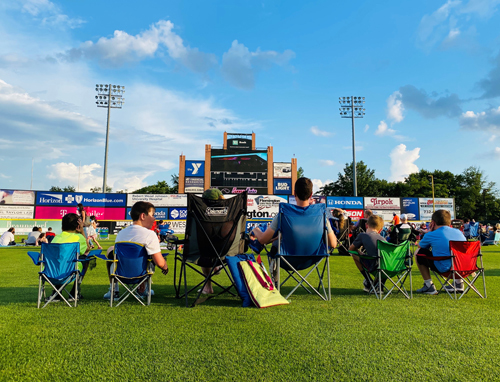 All seating will be general admission and located on the playing field as the film plays on the scoreboard's high definition video screen.
Families will be able to use blankets or lawn chairs in specially marked locations on the grass to maintain social distancing requirements.
Tickets are $10.00 each and are available exclusively on www.somersetpatriots.com. Kids four years old and over will require a ticket. There will be a maximum of eight tickets per transaction.
At this point, the Somerset Patriots are allowed 500 people at ballpark events. Should guidelines for outdoor community gatherings increase before the events, the team will possibly add more tickets to sell to reach the maximum capacity allowed.
Concession stands will be open featuring a limited menu of movie favorites. No outside food and beverages will be allowed.

2020 Summer Movie Series Schedule:

Field of Dreams (Rated PG): When Iowa farmer Ray Kinsella (Kevin Costner) hears a mysterious voice one night in his cornfield saying "If you build it, he will come," he feels the need to act. Despite taunts of lunacy, Ray builds a baseball diamond on his land, supported by his wife, Annie (Amy Madigan). Afterward, the ghosts of great players start emerging from the crops to play ball, led by "Shoeless" Joe Jackson (Ray Liotta). But, as Ray learns, this field of dreams is about much more than bringing former baseball greats out to play.
Thursday, August 13th at 7:00 pm

Stars Wars Episode IV: A New Hope (Rated PG): The Imperial Forces -- under orders from cruel Darth Vader (David Prowse, voiced by James Earl Jones) -- hold Princess Leia (Carrie Fisher) hostage, in their efforts to quell the rebellion against the Galactic Empire. Luke Skywalker (Mark Hamill) and Han Solo (Harrison Ford), captain of the Millennium Falcon, work together with the companionable droid duo R2-D2 (Kenny Baker) and C-3PO (Anthony Daniels) to rescue the beautiful princess, help the Rebel Alliance, and restore freedom and justice to the Galaxy.
Thursday, August 27th at 7:00 pm
---

Moana (Rated PG): An adventurous teenager sails out on a daring mission to save her people. During her journey, Moana meets the once-mighty demigod Maui, who guides her in her quest to become a master way-finder. Together they sail across the open ocean on an action-packed voyage, encountering enormous monsters and impossible odds. Along the way, Moana fulfills the ancient quest of her ancestors and discovers the one thing she always sought: her own identity.
Friday, August 28th at 7:00 pm
---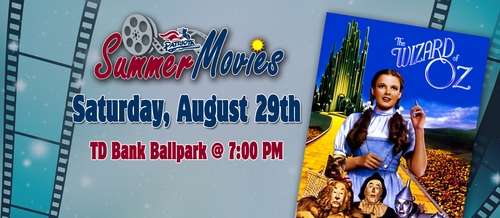 The Wizard of Oz (Rated PG): When a tornado rips through Kansas, Dorothy (Judy Garland) and her dog, Toto, are whisked away in their house to the magical land of Oz. They follow the Yellow Brick Road toward the Emerald City to meet the Wizard, and en route they meet a Scarecrow (Ray Bolger) that needs a brain, a Tin Man (Jack Haley) missing a heart, and a Cowardly Lion (Bert Lahr) who wants courage. The wizard asks the group to bring him the broom of the Wicked Witch of the West (Margaret Hamilton) to earn his help.
Saturday, August 29th at 7:00 pm
Safety And More Information:
All seating will be general admission and be located on the playing field of TD Bank Ballpark. We will have designated socially distant seating areas on the field for each party. A Patriots representative will help you find place to sit upon arrival. Blanket and/or lawn chairs are welcome.
For the safety of our staff and all patrons attending events inside TD Bank Ballpark, masks will be required upon entry to the ballpark and while walking around to restrooms, concessions, etc. Once you are seated on the field for the movie you may remove your mask as we have ensured proper social distancing between seating areas.
The movie will start at 7pm. Gates to the ballpark will open at 6pm. Entrance will be at the main gate near the box office.
Ballpark concession stands will be open. There is no outside food or beverages allowed. As a safety precaution, backpacks will also be prohibited from being brought into the ballpark.
We will ask that while inside the ballpark, please maintain a minimum 6 foot distance from other patrons not in your travel party and our staff at all times.
Stanchions and/or spacing markers will promote proper distancing between customers waiting in lines.
In restrooms, every other sink and urinals in the men's rooms will be blocked off to help with social distancing.
We will also provide additional hand sanitizing stations in the areas of the entrances and near concession stands for your convenience.
We also hope that you understand that while in the facility, our staff are unable to shake hands and please know that while you may not be able to see it, we will be smiling and welcoming you back to the ballpark.
All tickets will be sold online leading up to the date of the movie. If there are tickets available on the day of the movie, some limited tickets may be available for purchase at the box office. The number of tickets available for sale for any given movie will be determined by current outdoor gathering limits set by government and health authorities.

Presented By: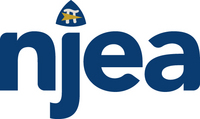 ---
CONCESSIONS: