Roster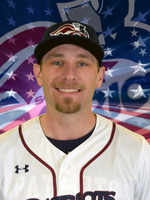 Nate Roe
#13
Position:
P
Date of Birth:
11/13/1989
Height:
6' 2"
Weight:
205 lbs
Bats:
R
Throws:
R
Resides:
Plainfield, NJ
Biography:
Roe enters his second season with the Somerset Patriots and fourth in the Atlantic League. The reliever ranked fourth on the team with 48 appearances (two starts) last year, and led all relief pitchers on the team with 59.1 innings pitched. He finished the season with a 5-3 record and a 4.55 ERA in his first stint with the Patriots.
The Plainfield, New Jersey native's best run of the season came over a 12-game stretch from May 30 to June 28 where the righty allowed just one earned run over 11.2 innings of work (0.77 ERA) with 12 strikeouts against four walks. He went 2-0 over those 12 appearances.
Roe spent the majority of his two seasons prior to Somerset with the New Britain Bees, where he split time between work as a starting pitcher and as a reliever. He went 5-3 over 12 appearances (10 starts) in 2016 with New Britain before he established himself as an All-Star relief pitcher in 2017.
The former Scarlet Knight appeared in 58 games for the Bees in 2017 (tied for ninth in the league) with a 7-6 record, one save and a 3.63 ERA. Roe held his ERA under 2.00 and his WHIP (walks/hits per innings pitched) under 1.00 for the first two months of the season and finished the first half with a 2.31 ERA over 30 relief appearances. That included an impressive 14-game stretch from May 11 to June 11 over which he did not allow an unearned run (16.2 innings).
Roe spent the first three years of his professional career with the Rockland Boulders (Can-Am League): primarily as a relief pitcher. He finished up 2015 with the Garden State Greys before joining the Quebec Capitals to begin the 2016 season. He appeared in 11 games with Quebec before he signed with New Britain to end the 2016 season.
The Rutgers product owns a 28-24 record with four saves and 256 strikeouts over his six-year professional career.