Roster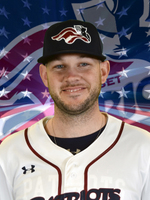 Liam O'Sullivan
#16
Position:
P
Date of Birth:
06/18/1991
Height:
6' 3"
Weight:
225 lbs
Bats:
R
Throws:
R
Resides:
South Grafton, MA
Biography:
O'Sullivan enters his first season with the Somerset Patriots and first in the Atlantic League. The 27 year-old hurler has previously spent three seasons in the Frontier League, including two memorable seasons (2016, 2018) with the Joliet Slammers. O'Sullivan was named the 2016 Frontier League Pitcher of the Year after he posted an 11-1 record with a 3.33 ERA and 109 strikeouts over 20 games (18 starts). He led the league in wins and winning percentage (minimum 15 starts), ranked second in strikeouts, and sixth in innings pitched that season.
The South Grafton, Massachusetts native missed the entire 2017 season due to an injury before returning to the Slammers in 2018. He picked up right from where he had left off, posting an 11-4 record with a 3.15 ERA and 77 strikeouts over 18 appearances (17 starts). O'Sullivan tied for the league lead in wins and complete games (four), while also finishing fourth in ERA. Additionally, he was selected to the 2018 Frontier League All-Star Game.
The St. Leo College alumnus began his professional career with the Frontier Greys in the Frontier League. O'Sullivan owns a 22-8 record with a career 3.45 ERA and seven complete games over 44 games (36 starts) in his three professional seasons.