Roster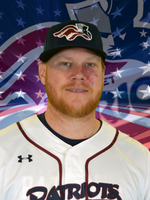 Brett Oberholtzer
#39
Position:
P
Date of Birth:
07/01/1989
Height:
6' 1"
Weight:
226 lbs
Bats:
L
Throws:
L
Resides:
Christiana, DE
Biography:
Oberholtzer technically enters his first season with the Somerset Patriots and first in the Atlantic League, though he did spend spring training with the Patriots last year. He was pegged as the Opening Day starting pitcher before his contract was purchased by the Colorado Rockies organization prior to the start of the season. There, he won seven games over 24 games (23 starts) with 91 strikeouts over 132.2 innings of work.
The Christiana, Delaware native has four years of service in the Majors, including three with the Houston Astros (2013-15) and one split between the Philadelphia Phillies and Los Angeles Angels of Anaheim (2016). In his first season with the Astros, Oberholtzer posted four wins and a 2.76 ERA over 13 games (10 starts) with two complete games and one shutout. Additionally, he only walked 13 batters over 71.2 innings of work.
Oberholtzer took over as a full-time starting pitcher for the Astros the next season, striking out 94 batters against just 28 walks over 24 starts. He later made eight starts for Houston in 2015 before making 37 combined appearances (two starts) for the Phillies and Angels in 2016. The southpaw has won 14 games with a 4.36 ERA and 220 strikeouts over 324 innings pitched in his four seasons in the big leagues.
Oberholtzer made 24 starts for Triple-A Buffalo (Toronto Blue Jays) in 2017. He has pitched exclusively at either the Major League or Triple-A level in each of the past six seasons. The Seminole Community College alum is 62-63 with a 4.15 ERA, 1.31 WHIP and 799 strikeouts over 10 seasons of minor league baseball.